In the spirit of Halloween tricks rather than treats, here's a bullet-point column about mainly Halloween topics but with one wildcard about local elections.
You've got to hand it to Brandon Thompson, who stepped into the role as event coordinator for Athens' Halloween block party this year. He worked like crazy to schedule events for all ages during the day, in the main uptown block of West Union Street, then booked bands on two uptown stages for later in the evening.
Yet, all his plans for daytime fun went awry, sabotaged by one of the rare rainy days we've experienced in Athens since mid-summer. Only a smattering of people showed up for the DJ, kids events, beer garden and other attractions from 1-5 p.m. on West Union.
However, my educated guess is that attracting a sizable crowd for family-oriented events during the day of the night-time Halloween block party always will be an uphill climb even with the best fall weather. Folks in Athens are conditioned to steer clear of the uptown area that day, mainly because of the lack of parking. Parking is even less available than usual that day, due to Ohio University closing all of its lots to visitors, whereas free parking is otherwise available on weekends. Plus many uptown lots (including the Secure Parking Lot behind the diner where The Athens NEWS has spots) are not accessible that day. 
I managed to find uptown parking spaces twice on Saturday, both times on the short street next to the Graffiti Wall, but that was totally because the rain had kept everybody away.
It's hard to imagine that the public perception about block party day in Athens – inevitable parking hassles – will change, but Thompson and the city deserve ample praise for trying to paint a more positive face on the uptown Halloween tradition in Athens.
Saturday upon parking across from Ohio University's Graffiti Wall, on the way to check out the West Union Street family-centric Halloween  event (see above), I was taken aback by a mural of a stylized vampire chomping on the neck of a beautiful woman, as if from a vintage '40s Dracula film. A few steps to the left was another large and shocking image, this one depicting the face of a demented clown wearing a small stars-and-stripes hat.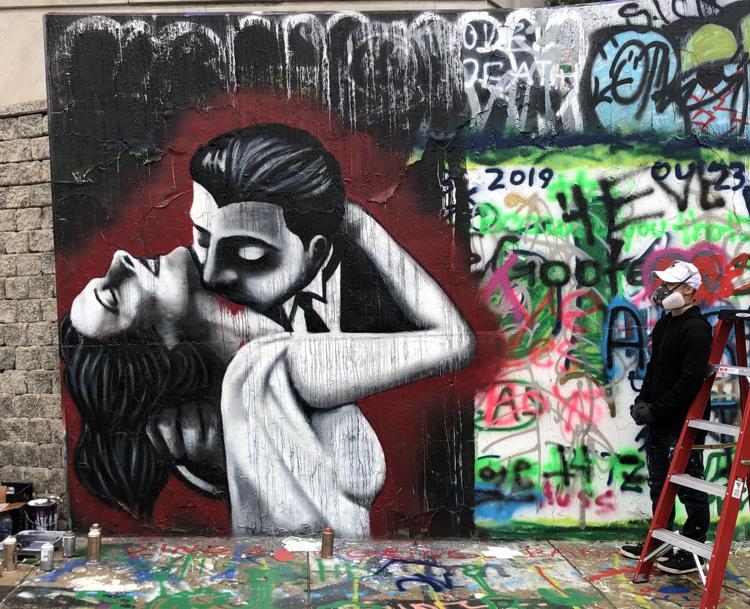 Subsequent research revealed that both of the wall paintings were the work of a talented commercial artist from Cleveland, Zaki Al-Muhtaseb of Prestige_Pictures_Cle. Al-Muhtaseb, on a visit to his OU student sister for Halloween weekend, was finishing up the vampire piece as I passed by.
My son-in-law informed me that the clown figure was Capt. Spaulding, the main villain from director Rob Zombie's slasher/horror flicks, "House of a 1000 Corpses" and "The Devil's Rejects" (both gratuitously violent to a painful extent). I learned later in the weekend that the actor who portrayed Capt. Spaulding, Sid Haig, passed away on Sept. 21, and the mural was an homage to him. There's also a Groucho Marx connection (look it up).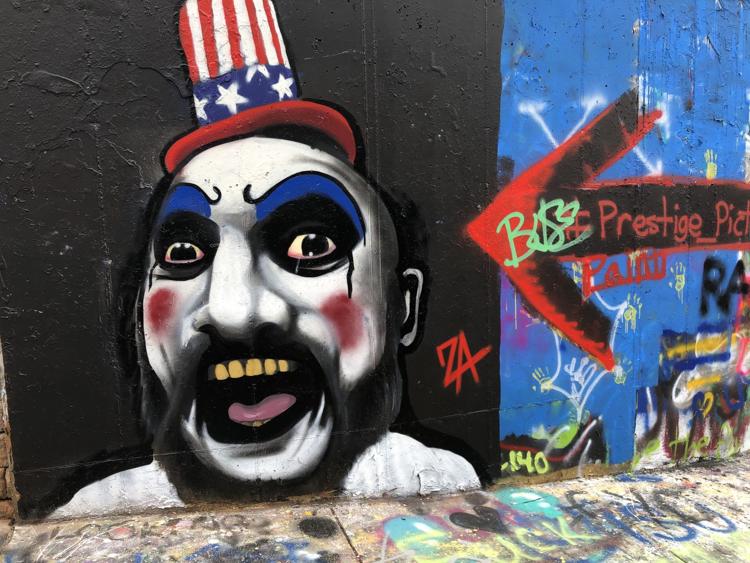 Anyway, I marveled at the detail and artistry invested in works of art that likely would be painted over in a matter of days, but also admired the chutzpah of the artist, who spent the day creating commercials for his business. I also wondered whether a commercial artist appropriating much of the space on the Graffiti Wall, which is intended for OU student contributions, violated any rules, either written or unwritten.
A quick Google search brought up several news articles (including some in The Athens NEWS) but none of them about non-student contributions to the Graffiti Wall. One OU Compass article from 2007 states the following, which can be assumed to the university's point of view:
"The Graffiti Wall operates as an unregulated public forum, which means it is a place the institution has afforded to anyone to make any message. Unless a display violates the law – for example, if a message threatens physical harm to an individual – it is constitutionally protected speech."
Or more accurately nightmares… Over the years, I've infrequently suffered from dreams about my newspaper job. Usually, they involve me working very hard to get a story, write a story or publish a story, but being blocked at every turn. (I'm not sure if this is the case with other people, but my dreams often involve my frantic efforts to accomplish a goal, with the goalposts constantly being moved out of my grasp.) Over the past week, I've had three of these incredibly frustrating "work-mares."
In one of them, I got a scoop on a big story (inspired by an actual major news development that arrived in my email right before bedtime) but then every time I tried to sit down and write/type it, someone would interrupt and prevent me from starting the article. Finally, after what seemed like an eternity of these interruptions, I lost my temper and cold-cocked the next person who interrupted me, then promptly was arrested and taken to jail, having not written a word.
Even worse than this was the dream where I spent the night writing an actual story for The Athens NEWS, polishing it, saving it, then awakening to realize that of course I hadn't written a word since it was all a dream. All that hard work for nothing.
It's probably time for me to stop reading my work emails before beddy-bye time.
On Nov. 5, we've got an off-year election, with various local candidate and issue elections. As usual with these elections, an assortment of local government boards and agencies will ask their constituents to support them by saying yes to tax renewal, replacement or new levies, for everything from cemetery upkeep to fire protection to library services. On the Athens County Board of Elections website, some 30 local issues are listed, with some of them countywide and others for villages and townships.
Until this election, The Athens NEWS would have published endorsements for the countywide issues. We have stopped that practice due to no longer having a working editorial board to decide whom and what to endorse. But for what it's worth, I'm providing my own endorsements right here.
In every case, voting yes on such things as senior citizen Meals on Wheels (Issue 21), local libraries, Children Services, Emergency Medical Services, and Health Department services will ensure that vital services are maintained, at either the same cost that you're already paying or with a small increase to allow the agencies to keep up with rising costs.
And while I don't have time to research every "smaller" levy, I would put in a good word for Alexander Township's operating cemetery levy of one mill. As is the case elsewhere in the county, the traditional boards that once maintained rural cemeteries in Alex Township gradually have disappeared as their members have died off. Yet, the cemeteries still need to be mowed and otherwise maintained.
I guess you could call this a "death tax." Whatever you want to call it, as an Alexander Township voter, I'm all in.