Editor's note: This is the final part of an Athens NEWS series about the legacy of coal mining in Athens County and in the surrounding area. You can find parts one, two and three by clicking the links here.
Heading north on Ohio Rt. 216 in Athens County into southern Perry County –  a winding highway bracketed by jewel-green forests and rocky hillsides – you arrive at the little coal towns of New Straitsville and Shawnee (pops. 720 and 655 as of 2010).
Both of these communities hide a certain vibrancy despite their sleepy nature, with rich historical significance not evident as one gazes at the boarded-up and dilapidated storefronts that front their main streets. Shawnee and New Straistville are among a patchwork of towns built up during the heyday of coal mining throughout Appalachian southeast Ohio – especially in Athens, Hocking and Perry counties – dubbed the Little Cities of Black Diamonds.
John Winnenberg, community organizer with Sunday Creek Associates, a nonprofit based in the historic Tecumseh Theater in Shawnee (built in 1908), is well-versed in the history of these small towns. He has been working for years to create a sustainable economic development model for these communities that were left to fend for themselves after most coal mines left the region. Sunday Creek Associates also operates the Little Cites of Black Diamonds website, which serves as a portal to the rich history of coal country in Appalachian Ohio.
Winnenberg and others recently created Ohio's Winding Road network, a marketing and branding effort meant to promote the "experiential economy" in the region to bring visitors and new residents alike back to coal country. That means guided tours of historic locations and towns, live music and shows (when those will be allowed again), promoting trails and outdoor recreation opportunities in the Wayne National Forest and Hocking Hills, and propping up lodging and dining and other support businesses in the area.
"We feel like rebuilding our economy around these assets is critical to just making these towns more desirable places to live, and to start a business and invest in; otherwise, they're just totally left to be deserts," Winnenberg said.
Part of Winnenberg and his partners – some of them affiliated with Ohio's Hill Country Heritage Area, which started the Winding Road effort – also are involved in saving historic buildings. Grants and other funding have been secured to renovate part of the Tecumseh Theater, which Winnenberg and another partner purchased for $500 back in the 1990s, saving it from demolition. The theater has now become a community center and venue for performing arts in Shawnee, among other purposes, although its top floor – a huge theater space with high ceilings that was obviously once ornate and beautiful – still needs a lot of help.
Work by people such as Winnenberg has become all the more relevant as this region – like many across the country – grapples with the yet-untold economic impact of the coronavirus (COVID-19) pandemic that has caused a huge nationwide economic downturn.
This area is no stranger to hard economic times, even when the rest of the country's economy has prospered. These communities' struggles began after their main economic engines of resource extraction pulled out, and they've been through successive boom and bust cycles.
In recent years, in Athens County in particular, the main source of jobs has been either in higher education, government or health-care, with the bulk of the rest of the jobs in low-wage service industry segments. 
Currently, however, all sectors of the regional economy are suffering. Athens County has seen at least 1,833 claims for unemployment (in a county with roughly 65,000 people) since the pandemic began, according to Ohio Department of Job and Family Services statistics from mid-May; Perry County had seen about the same number. Ohio University, the biggest job provider in Athens County, just laid off or eliminated the positions for 340 people due to the pandemic and prior issues with declining enrollment.
Meanwhile, according to a recent voluntary survey of 47 Athens County businesses conducted by the Athens Area Chamber of Commerce and other local partners, roughly 43.7 percent of the businesses surveyed had to close their doors during Ohio's state-mandated business closures since March, with 32.6 percent having to significantly reduce their hours/staff.
Athens Mayor Steve Patterson said during a recent interview that these business closures and payroll reductions will have a continued serious impact on the city's income tax, as is the case with nearly every city across the country.
"I'd be disingenuous to say that everything is doom and gloom, I don't think that's the case, but there are sectors that are absolutely hurting, and will likely be hurting for a while, if not likely having to shutter permanently," Patterson said, noting food service businesses have been greatly impacted.
For example, Kiser's Barbeque on East State Street in Athens recently announced it was closing due to the pandemic, stating that it saw "no way in being able to sustain a business under the guidelines set forth by the State of Ohio." That business said, however, that it hopes to reopen in the not-too-distant future at a new location.
EVEN BEFORE THE pandemic, local residents and leaders have long debated the best way to bring economic development to the area.
For local leaders like Athens County Commissioner Chris Chmiel and Patterson, the main way forward is through diversifying the economy. Chmiel said during a recent interview that Athens County is "very reliant" on the jobs created by OU, although that's nothing new; what is new, he said, are changing economic factors involving higher education, including the ever-increasing cost of a college education and changing demographics.
"We've been working toward diversifying our economy, and this (pandemic) is just going to kind of accelerate it in my opinion," Chmiel said.
Aaron Thomas, who owns Class A Sounds on East State Street in Athens, recently emailed a letter to Chmiel after the first round of layoffs at OU, asking "what is the plan B for Athens, Ohio when jobs are lost and tax dollars disappear?" Thomas' letter took elected officials to task for what he viewed as anti-business behaviors, arguing that high local property and income taxes are inflating the cost of rent for businesses and that local regulatory bodies such as the Athens Shade Tree Commission are scaring away bigger businesses from opening in Athens due to requirements on new development.
"…This pandemic has opened the people's eyes to a hard reality to what is next after this is over," Thomas wrote. "How can business owners continue to pay $3,000 a month for rent on Court Street with no customers? How can a landlord for that same retail space afford to give his/her tenants a price break with property taxes over $9,000? The city and county are at a crossroad; what will you do to keep our area from becoming another 'coal mining town'? My focus has went from how to save my business to how to save my life and be able to provide for my family."
In an emailed response, Chmiel said he understands Thomas' concerns, though he disputed the contention that either Athens city or Athens County is anti-business.
Chmiel touted the county's efforts to work with the Athens Hocking Recycling Center since he became commissioner seven and half years ago to "save" that non-profit from being put out of business, which has since expanded from 15 employees to roughly 40. The county also launched started the Athens County Land Bank in order to take over tax-delinquent, blighted properties in the county and get them back in the hands of developers and local residents to either renovate or rebuild over.
"This vital work of improving the parts of Athens County that have been in decline since the collapse of the coal mines back in the '70s, is important to diversifying our county's economy," Chmiel wrote.
Another issue that Thomas called out in his letter was a lack of manufacturing jobs coming to Athens County over the last two decades or so, outside of some recent developments.
On that front at least, some positive news came earlier this month when the Athens County Economic Development Council (ACEDC) and JobsOhio announced that a $2.9 million JobsOhio grant had been awarded for site development at the Bill Theisen Industrial Park, located outside The Plains, to create two new buildings with access to utilities and other amenities needed for new businesses to move in.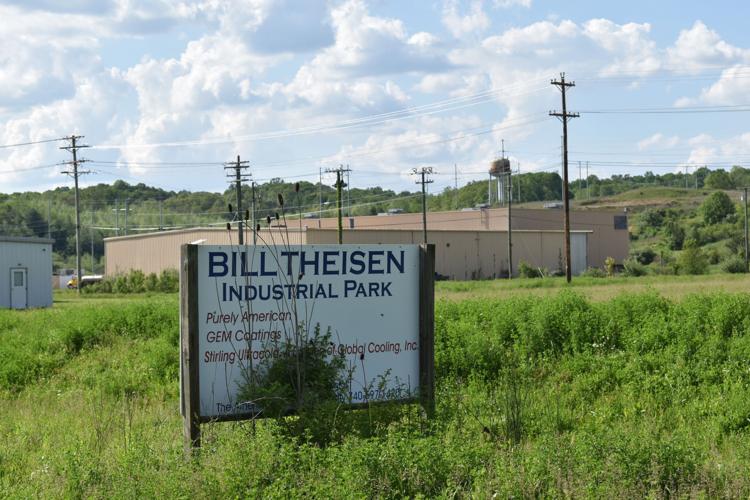 Sara Marrs-Maxfield, executive director of the ACEDC and secretary of the Athens County Port Authority (a related economic development agency), said this is good news because it will help atract new businesses into the area to continue to diversify Athens County's economy. She said this will help push the industrial park toward becoming a "hub for commercial activity."
Chmiel noted in his email that local business Quick Loadz also recently expanded into the industrial park; meanwhile, the county Commissioners last year entered into a lease with Athens Mold and Machine to allow that company to expand into the former ATCO Building on Campbell Street in Athens, a move billed with the potential to create 30 new jobs paying an average of $17 per-hour.
Still, Marrs-Maxfield acknowledged that our area faces unique challenges when it attempts to attract further economic development.
"Although we have had successes in existing business expansions and attraction to Athens County, we have also missed many opportunities due to the lack of appropriate building and sites," Marrs-Maxfield explained. "The Port Authority's vision has been and continues to be to capture some of these opportunities by mitigating some of the development risk which tends to be higher in rural communities. Site development is more expensive in Appalachia due to the topography, lack of infrastructure, and legacy issues resulting from historical extraction activities that are common to our entire region."
Despite the recent positive developments, Marrs-Maxfield recognized that the pandemic will have a "huge" impact on the economy of the region, which in the past has been insulated from some of the worst elements of economic downturns due to the university's huge presence in Athens.
"Changing circumstances, such as those we are currently seeing with OU, can shake the economic foundations, leaving people without jobs and local governments without a healthy tax base," she said. "Local, regional and state entities that work in economic development are doing everything we can to deepen partnerships and expand capacity because we know that boots on the ground to address challenges big and small are going to make the difference to shorten the recovery time."
Chmiel said he remains hopeful that Athens County and the wider region can become an economic hub for a variety of businesses, and touted the innovation of local residents and business owners, such as that of RXQ Compounding, which expanded from the Ohio University Innovation Center to a facility in Albany recently. He also noted that the California-based company Quidel Corporation – which bought Athens-based Diagnostic Hybrids Inc. about a decade ago – continues to have a strong presence in Athens, with Quidel recently getting emergency approval for a new rapid coronavirus testing kit.
OUTSIDE OF PRIVATE COMPANIES, Jack Frech, former director of Athens County Job and Family Services and a long-time anti-poverty advocate, said in an interview earlier this year that people often underestimate the economic development created by tax money that goes into government agencies.
"Far and away, our biggest economic drive down here is tax money; it's government, it's education, it's our whole tax-funded health-care industry… Those agencies and health-care have been our only serious growth industry down here for years," he said.
Frech said people need to update their view of what economic development looks like, arguing that increasing federal and state financial support for education and health care creates well-paying jobs with benefits that people are looking for.
"How do we expand health care down here? With that comes decent jobs," he said. "If we look at our policies on education, making sure we were adequately funding education, with that would come decent-paying jobs." 
ANOTHER BIG HOPE for Chmiel and Mayor Patterson is the Baileys Trail System, with about 15 miles of mountain-biking optimized trail constructed so far out of 88 miles total proposed in the Wayne National Forest, with trailheads adjacent to Chauncey, Buchtel and Doanville. These villages, along with Nelsonville, are themselves considered "Little Cities of Black Diamonds."
That trail has been touted as the county's best hope for economic development, with the potential to bring thousands – with some estimates ranging from 100,000 to 200,000 – new visitors to the county each year.
Discussions on further funding for that trail system have stalled during the pandemic, with the Athens County Commissioners at a stand-still between Chmiel and Commissioner Charlie Adkins on what to do with $90,000 that had been earmarked (but not appropriated) in support for the trail system (Adkins has been more skeptical of the project's potential to bring about visitors and economic development to the county).
A $350,000 grant is currently available for the project, but it requires a 20-percent funding match. With the county uncertain about the pandemic's impact on its finances, Chmiel said that it's currently looking for private donation pledges to make up some of that match.
Meanwhile, Mayor Patterson, the new chair of the Outdoor Recreation Council of Appalachia (ORCA), a consortium of governments that's been working on the Baileys project, said that ORCA is in the process of advertising for a new executive director position to help spearhead the Baileys project.
Athens City Council also recently approved appropriating $35,000 from the "Athens Enhancement Fund" to go toward the match required for the grant mentioned above, Patterson said. That fund receives revenue from a lease that a local property owner has on buildings on Station Street in Athens (land which the city owns); Patterson noted that the money can only be used for economic development and city enhancements.
MOVING BACK TO the situation with Shawnee and Sunday Creek Associates, Winnenberg said last week that the pandemic has halted some of his nonprofit's work, including the Winding Road effort. However, it also has given those outfits time to plan their next steps.
Despite the pandemic, Winnenberg said he believes people, especially those living in larger cities, are hungry for new outdoor and weekend getaway opportunities, especially as they have a new incentive to stay away from large groups of people in indoor areas.
As for how to attract those people to the small communities – the little diamonds – that dot the region? Winnenberg again looks to the history of the region.
For example, Shawnee and New Straitsville in particular were home to two of the first mining labor unions in Ohio, formed in the 1870s-1880s, becoming the national headquarters for the secretive "Knights of Labor" and the more activist National Federation of Miners and Mine Laborers. These two organizations eventually put their differences aside and met in Columbus at a convention in 1890, forming America's first major union for miners, the United Mine Workers of America (UMWA).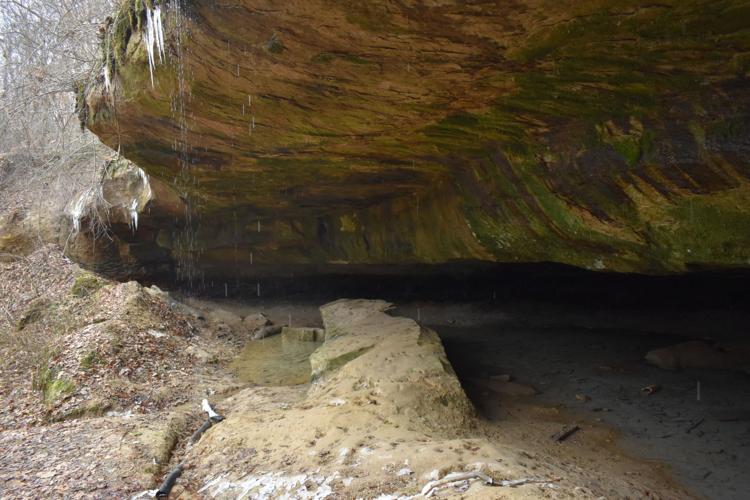 Statues, plaques and other relics memorializing that history can be found throughout the region, including a statue in downtown Shawnee. Meanwhile, over in New Straitsville, a collection of signs leads to a small trail to Robinson's Cave, a long rocky overhang where the Knights of Labor and other miners once met, almost a century and a half ago. One of the signs describes it as the "secret birthplace of the UMWA." Another sign says that the cave was used as a site to plan a wide variety of strikes for miners demanding better pay and better working conditions.
It's this history, combined with the natural splendor of Appalachian Ohio, that Winnenberg says he hopes will eventually bring tourism dollars and new businesses to the region.
"I do think that people are going to be looking to this part of Ohio to have more open space for recreation," Winnenberg said. "And so being able to take advantage of that is another opportunity."
ANECDOTALLY, SOME RECREATIONAL businesses in Athens County are already seeing a bit of that hoped-for boost as Ohio continues to open after much of its economy was locked down.
Dave McPherson, aka "Uncle Buck," owner of Uncle Buck's Riding Stable and Dance Barn near New Marshfield, said his business lost about $20,000 during the recent closure. However, after it reopened earlier this month, people have really embraced the horse-mounted trail rides his business offers, with one option allowing riders to visit the nearby Moonville Rail Tunnel.
"It seems like people are really hungry for something to do like this," he said. "As soon as we opened up, we've been busy every day. I compared five days this week to the same five days last year, and we almost doubled what we did last year."
McPherson said he's hopeful that people will continue to see Athens County as a destination, and that his business can earn back that lost revenue.
"This is our 23rd season, and we're hoping to be here for another 20 years," he said proudly.