Spectrum (aka Charter Communications) held a press conference last Friday announcing that it has built roughly 20 miles of fiber to extend high-speed Internet services to more than 2,400 homes and businesses in western Athens County, including in New Marshfield.
During the press conference at the Ohio University Inn, Ohio Lt. Gov. Jon Husted and state Rep. Jay Edwards, R-Nelsonville, joined Spectrum officials in announcing the expansion.
According to a map showcased during the press conference (you can see that image below), the general areas where people could be eligible for the new high-speed Internet connection from Spectrum include homes on and off Radford Road and Baker Road to the west of Athens; much of the area around New Marshfield; and some homes in the area of Ohio Rt. 691 as it intersects with Ohio Rt. 56.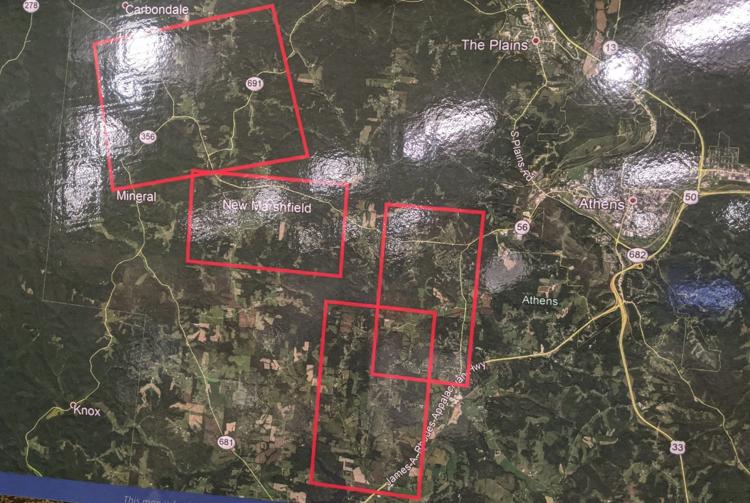 It's important to note that not all homes in that area will be eligible for the services; anyone interested should call Spectrum at 1-855-707-7328. 
Husted said during the event that expansion of broadband services into rural Ohio is among his and Gov. Mike DeWine's top priorities.
"You cannot participate in the modern economy, the modern education system, the modern health-care system without access," Husted said. "This has been far too long in coming."
Husted thanked Spectrum for its work in expanding broadband access in Ohio in recent years, and also thanked Rep. Edwards for "helping fund" InnovateOhio, an initiative that produced a report in December 2019 studying the problem of incomplete broadband connectivity in Ohio and how to potentially work on that issue.
Edwards said that one of his priorities in the Ohio House – and the subject of several "priority bills" pending in the House now – is to try to incentivize business and industry leaders to expand broadband into the region he serves.
"Access to broadband is so important," Edwards said. "The world of technology is moving so fast and rapidly right now that it is touching every part of our lives."
Gary Underwood, VP for government affairs with Charter Communications, said that his company has made a "significant investment" in Ohio, with more than $900 million invested in technology and infrastructure in the last two years, expanding services to 60,000 businesses and homes in the Buckeye State.
Tom Reid, owner of Reid Consulting Group in Athens, said Monday that expansion of Spectrum's services in western Athens County is a "huge deal" for the people in that area. Reid worked with the Buckeye Hills Regional Council on an Appalachian Regional Commission-funded study that was released recently on the state of broadband connectivity in eight counties in Appalachian Ohio (including Athens County).
Still, Reid acknowledged that there's "still a lot of sections of Athens County with nothing" in terms of decent Internet services. 
"In the whole Amesville area, there's no broadband, there's no cellphone service, and their wired phones don't work well either," Reid said. "Also in northern Athens County, the whole Glouster-Trimble area, those are also huge areas with nothing."
Reid said he doesn't think many who live in Athens or in other cities with access to high-speed Internet truly understand the "level of impairment" that the lack of broadband access has on people's personal and business lives.
"It's hard enough to get (Washington) D.C.'s interest in it alone," he said.
According to the Buckeye Hills study, roughly 80 to 90 percent of the households in the "rural expanse" in the eight-county region studied (meaning areas with 20 or fewer households per square mile) have no access to broadband services. About 75 percent of the study area in general lacks availability of broadband at the current Federal Communication Commission minimum of 25 megabytes-per-second downstream and 3 megabytes-per-second upstream.
BRUCE VOSS, A RESIDENT OF Baker Road who appears to be in the general area of the Spectrum update touted during the event Friday, said in an email this week that he was excited about the potential to receive high-speed Internet at his home. However, he said a Spectrum representative informed him last week that his home is not eligible for those services.
"We have only Frontier Telephone available to us for Internet access," Voss said. "Intelliwave is blocked to us by the hills immediately surrounding us. Our service with Frontier is spotty. We reboot our modem quite often to reset the WiFi in our home. The WiFi tends to blink out during some part of any given day but more frequently any time after 5 p.m. We are grateful, though, to at least have Frontier, knowing that many in our area do not have any options available to them."
Edwards during his comments at the Spectrum event Friday noted that Appalachia's hilly terrain can be a challenge for internet providers to extend access to their services.
Voss said that the lack of broadband availability is one major factor that hinders economic development in the region.
"In my father's time, the federal government created the Rural Electrification Corporation to make it possible for all rural customers in the U.S. to access to electricity," Voss said. "I would like to see our federal government get involved in a similar arrangement for broadband today. I am disappointed that for the past several decades the federal government has chosen instead to remove mandatory service requirements on utilities, creating a have and have-not bifurcation of the broadband world in the U.S."
Reid noted that the FCC is spending "a lot of money" over the next few years through its $20-billion Rural Digital Opportunity Fund to extend broadband services. Reid said this is not "new money," instead coming from money that the FCC has collected since 1934 to improve various other communication system expansion projects in rural America.
Reid said that because the time for public comment was so short on that project, he believes the Buckeye Hills Regional Council was one of only a few groups to file "substantive consumer advocacy comments" during that period.
According to the FCC's website, an auction will be held next October to fund broadband expansion services to more than 6 million homes and businesses in census blocks that are "entirely unserved by voice and broadband with download speeds of at least 25 megabytes per-second."
Ron Testa, assistant vice president of field operations for Charter, said during the press conference Friday that the latest expansion project in Athens County is just one of a series of upgrade projects planned for rural Ohio in 2020.