Locke Wolf wipes off the scarred, wooden bar of the Smiling Skull Saloon with a dish rag, looking at his father, Chris Wolf, sitting by the afternoon-tinted window. This is one of his father's better days, Locke says.
It's obvious the two are related just with a glance: each of them sports a tangled beard that reaches to his chests, Chris's a light gray and Locke's a chestnut brown.  Locke always expected he'd take ownership of the legendary Athens "biker bar" that his father built from the ground up. His father battling rapidly spreading kidney cancer was not expected.
"If you want to see your family again, I would call them here now," a doctor told Chris this past summer. Chris' heart rate was skyrocketing because of a tumor pushing against his heart, and family members flew from across the country to see him in Columbus.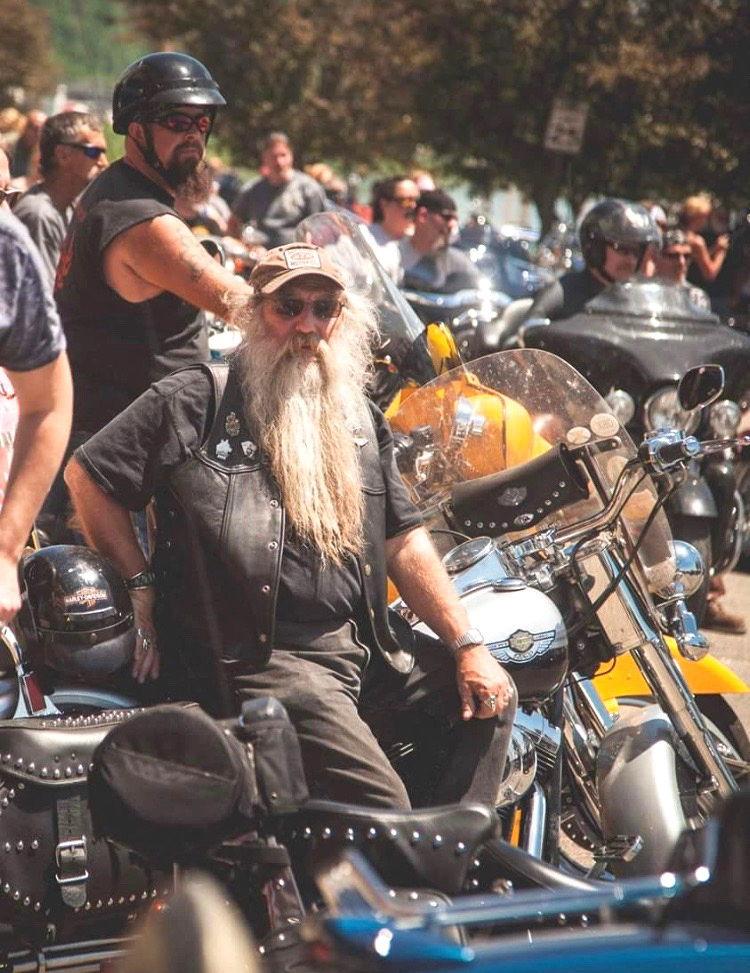 This same man Locke knows so well was crippled with pain for two months, bedridden with little appetite for food. The same man whose sharp mind was tripped up by doctor-prescribed painkillers, for example taking three showers in one day with no explanation. The same man whose wild mumbling on bad days reminded Locke of his dementia-stricken grandmother. This man who helped raised Locke to become who he is today.
After losing almost 50 pounds in weight, Chris refuses to go through any more treatment. (Editor's note: Chris Wolfe passed away two days after this article was published.)
"I can't believe you let me get that parking ticket," Chris hollers at Locke. Chris gingerly rises from his wooden chair, waving a ticket envelope toward Locke and exits the bar into the bright sunlight. 
 "You start thinking about yourself when you see all of your family members starting to kick," Locke says. "It put me in the mindset where you better be happy for the little shit. Because one day, you're not going to have it. Ultimately, we know what's going to take him. We just don't know when."
The future of the Smiling Skull Saloon was settled last February when Chris gave the Smiling Skull Saloon to Locke and his sister, Adrienne. Yet constant reminders of their father's 24 years of partial or full ownership surround them.
Almost every picture of a group of friends, poster from a band that played at the bar, collectible license plate, and random piece of metal on the boardwalk walls has a story behind it, Locke says. He points out a gnarly skeleton riding a rusty tricycle hanging from the ceiling, the same tricycle he used to ride around naked as a toddler. 
Complete strangers sometimes introduce themselves to Locke, asking if he's "Detroit's" son, referring to Chris by his biker handle. One of those strangers pointed to a small, faded poster advertising the band "Heathen" hanging over the bar's small stage. The stranger's father was the bandleader of "Heathen" and knew Detriot well.
Locke doesn't mind the biker lifestyle his father carried into the bar; Locke himself was riding Harley motorcycles before he could drive. Each of the assorted, discolored rings on his fingers tells a story of a different motorcycle trip Locke has taken. One example, he says, is a ring emblazoned with winged wheels, commemorating a ride to Myrtle Beach in the pouring rain.
"If I didn't grow up around bikers, maybe I wouldn't do it," Locke says as he cracks open a Coors Banquet beer. One small difference between Locke and his father: Chris only drinks Coors Light. Locke moves through the rugged bar with ease, placing ice in the bins below the bars, restocking the beer in the coolers built into the wall, all the while talking with patrons like they're old friends. 
It's a place Locke has known since he was playing pool as an 8-year-old with some of his father's drunken friends. One of Locke's first memories of the bar involves someonen shoving a cheese curl into his ear in order to get a rise out of him, he recalls with a grimace. He glances down at his iPhone periodically; his duties as parent and husband are calling.
Just as Chris would bring Locke as a kid to the bar, Locke sometimes brings the oldest of his three children, 8-year-old Felix, after school to help move chairs or count quarters on the pool table. "I don't have to clock in and clock out," Locke says. "But you have to be here every single day. I can't 'call off' as a bar owner, and I can't 'call off' as a parent."
Locke became a father in his early 20s, and the landscaping jobs he had and the travel agency job his wife, Christina, operated barely supported his young family."It was a do-or-die situation," Locke says. "You're going to make sure things are as right as they can be. Or you're gonna fail or flake out. There were times when we struggled."
The 24-year-old bar provides a livelihood for his family that he didn't have before, one thing he's grateful his ailing father has given him. 
"I think he knew then that he was going to create something really cool to send on so that we could send it on. Because ultimately I have three kids. Down the road I want to keep it going," Locke says.
He says he doesn't expect the Smiling Skull Saloon to change much in the years ahead, and for Locke, it doesn't have to. He's willing to carry his father's vision of the perfect bar well into the 21st century.
"One of these days, I'm going to be one of those old cats sitting over there cursing and spitting and talking about the '70s," Locke says. "And I honestly look forward to that. Because I wonder what kids today are going to be like when they're my age."