Just north of Athens County's border with Perry County lies Rendville, the smallest incorporated community in Ohio (with a population of 36 as of the 2010 U.S. Census).
But despite its size, the little town's history and former residents played a big role in the story of racial integration/desegregation in Ohio.
Jerry Jackson, 70, president of the Rendville Historic Preservation Society, lived in Rendville for much of his youth. In a recent interview, he explained that Rendville was founded by prominent Ohio businessman William P. Rend in 1879 as a community to provide workers for a coal mine that he operated nearby
"He brought African Americans in from the South and some foreigners from different countries," Jackson explained. "There were at least seven ethnic groups that lived there in Rendville, and they all got along fairly well because their goal was to work in the mine. So it was kind of unique that everybody got along so well back at the time."
With the decline of the coal mines in the area in the late 19th and early 20th centuries, Rendville slowly lost residents and businesses (Jackson said about 300 people lived there when he was a child). Nowadays, not many people live in Rendville, and the few historic buildings that remain are in disrepair.
That being the case, the Ohio History Service Corps (an AmeriCorps program) is joining the Rendville Historic Preservation Society on Martin Luther King Jr. Day (this coming Monday) for a day of service to renovate a historic coal company house in Rendville to turn it into a museum and learning center. The group also will help with beautification and document digitization, according to a release issued earlier this month.
Both groups are seeking help from people in the area in this project, specifically in the form of donating money to help the renovation and beautification efforts (they don't need any more volunteers at this time). Those interested can check out a GoFundMe for that effort at this link.
Anyone interested in obtaining more information about the renovation project can contact Tanner Ogle with the Ohio History Service Corps at tanner@athenshistory.org, or call 740 592 2280 (ext. 105). People can also contact Jackson at bobcatjdj@wildblue.net for more information on Rendville in general.
Jackson noted that several important historic figures came from Rendville, including Dr. Isiah Tuppins, who Jackson said was the first African-American doctor in Ohio to graduate from Ohio State's medical school. According to the Ohio History Connection's website, Tuppins was also the first African-American mayor in Ohio (of Rendville starting in 1888).
Roberta Preston, the first African-American post-mistress to serve in U.S. history, also lived in Rendville, according to the Ohio History Connection website.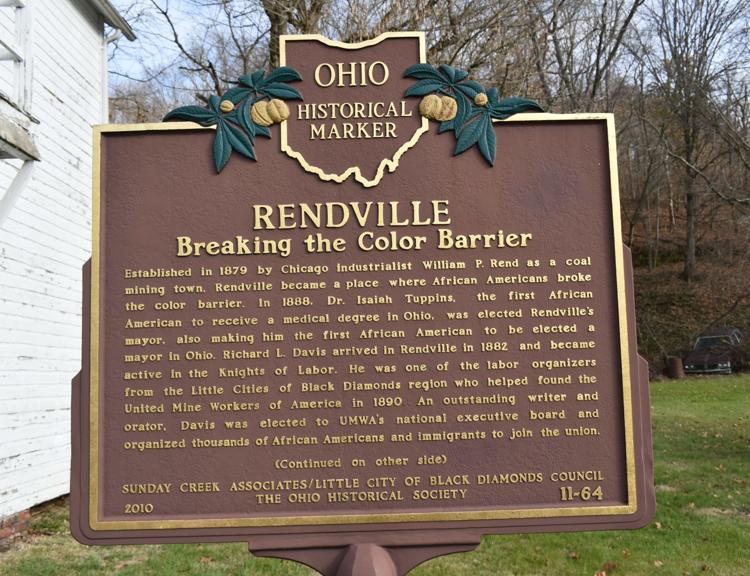 According to the historical marker in the village, another important Rendville figure was Richard L. Davis, who "arrived in Rendville in 1882 and became active in the Knights of Labor. He was one of the labor organizers from the Little Cities of the Black Diamonds region who helped found the United Mine Workers of America in 1890." The historical marker continues, "An outstanding writer and orator, Davis was elected to UMWA's national executive board and organized thousands of African Americans and immigrants to join the union."
"We're trying to preserve that history so that… people passing through would stop by and read about some of that history and learn about some of the people who used to live there," Jackson said.