Two people suffered injuries Thursday morning at the Johnson Road/U.S. Rt. 33 intersection, reviving debate about this controversial intersection just northwest of Athens.
In response to discussion about the accident Thursday morning, Athens County Engineer Jeff Maiden said later Thursday that he intends to "start the process" with the Ohio Department of Transportation to close the left-hand-turn option on Rt. 33 at that intersection, mostly likely by eliminating the opening in the median strip. Two traffic engineers with ODOT have indicated to him that they would support such a move, Maiden added.
Early Thursday afternoon, Ashley Rittenhouse, public information officer for ODOT District 10 (which includes Athens), said her agency is aware of this morning's crash and is awaiting details from the crash report. "ODOT has had conversations with the Athens County Engineer regarding this intersection and continues to evaluate the options, including the option of closing the median," she said.
(Another crash, this one a single-vehicle fatal accident, occurred near the same intersection early Friday morning, but involved very different circumstances from Thursday's two-car crash. See that story here.)
Thursday morning's accident occurred, according to a news release from the Ohio State Highway Patrol, when a young driver heading northwest on Rt. 33, made a left turn across traffic toward Johnson Road and was hit by an oncoming car.
For years, this busy intersection has drawn criticism because of the fact that drivers coming from Athens on Rt. 33 must cross two lanes of fast-moving traffic in order to exit the freeway and get onto Johnson Road. This is the main access point to Athens High School, as well, so many people, including AHS students, are making that turn during the day.
In fact, that appears to be what the driver of the vehicle making the turn was doing when her car was struck around 7:30 a.m. Thursday. 
The release from the OSHP reported that they are still investigating the two-vehicle crash. It occurred when Kate L. Hibbard-Gibbons, 33, of Canal Winchester – driving southeast on U.S. Rt. 33 in a 2010 Toyota Rav4 – struck a 2016 Toyota Corolla driven by a 16-year-old Athens girl, the release said. The teen girl – driving northwest on Rt. 33 – "failed to yield the right-of-way" when she attempted to make a left turn onto Johnson Road, the release added.
The release said that both drivers were taken by Athens County EMS to OhioHealth O'Bleness Hospital, with the 16-year-old taken by Med-Flight to Grant Medical Center in Columbus (later the family said she actually was taken to Ohio State University hospital). Though the girl was listed as stable earlier Thursday, she had improved enough to be released from the hospital later in the day, a family source stated.
The other driver, Hibbard-Gibbons, was not listed as having been treated at O'Bleness Hospital, even in the emergency department, a hospital spokesperson said Friday morning.
In a letter to various local and state officials on Thursday morning, Sean Parsons, vice president of the Athens City School Board, called upon them to act to address the Rt. 33-Johnson Road intersection. 
"I write this to share my utmost concern about the issue of traffic safety at the intersection of Route 33 and Johnson Road," Parsons wrote. "As a member of the Athens City School Board, I must advocate for the safety of our families and their children.
"While I sincerely appreciate the thoughtful work that has been done to improve safety at that intersection, it has proven to not be enough. Even with those improvements, there have been two horrific accidents in the last seven months involving our young adults – both who I know personally. These accidents have resulted in the total destruction of their vehicles and I fear it is only a matter of time until a life is lost. It is imperative that we act. It is our responsibility to do so."
Possible solutions, he said, include a stoplight at that location that operates only during peak school transportation hours to completely closing the left-hand turn lane from Rt. 33 northwest-bound. That's the solution advocated by county Engineer Maiden, who also suggested some other, safer options for exiting/entering traffic in that general area.
Athens County Commissioner Lenny Eliason was among those who received Parsons emailed letter. He said he agrees that ODOT needs to look at addressing this problem intersection.
"I think ODOT needs to revisit this issue and look at alternatives and their cost. There are options that range from closing the intersection to building access roads and an interchange. Each one has pros, cons and costs. A comprehensive review and a public hearing would be in the best interests of all concerned."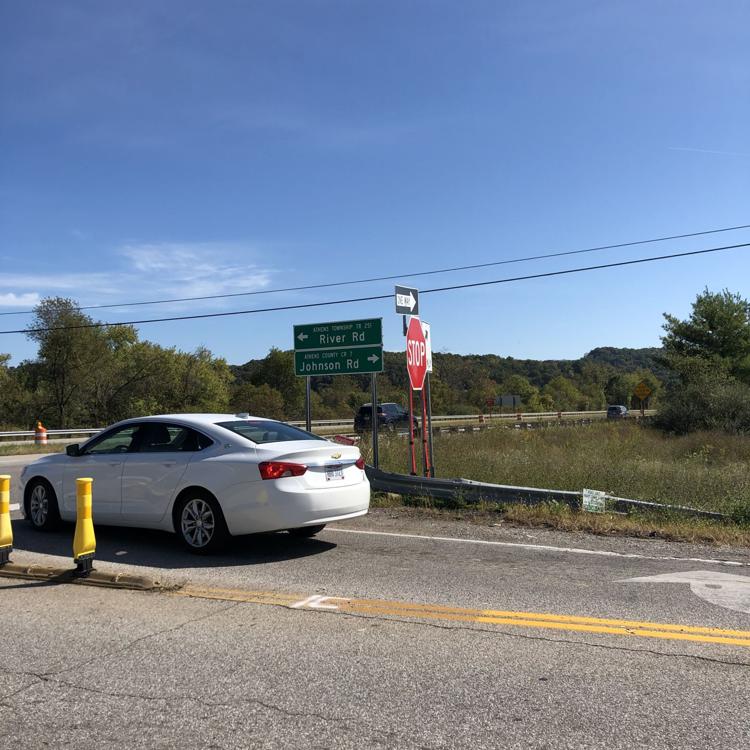 Lt. Virgil Conley of the Ohio State Highway Patrol said Thursday afternoon that the Rt. 33-Johnson Road intersection doesn't have an unusually high number of accidents considering the amount of traffic that uses the highway. In the past five years, he reported that six crashes have occurred at that intersection that involved the same circumstances as the two-car crash Thursday morning, a northwest-bound driver on Rt. 33 failing to yield while turning left onto Johnson Road. Two of those six crashes occurred in the past several weeks.
A total of 17 crashes, from all causes, have occurred at that intersection in the same five-year period, Conley said.
In all of Athens County, he said that 823 crashes have occurred on U.S. Rt. 33 in the past five years.
In response to this morning's crash at Johnson Road and Rt. 33, Athens City Schools Supt. Tom Gibbs Thursday afternoon confirmed that the intersection has been an issue for many years.
"Several years ago there were significant changes to Rt. 33 to include a turning lane and hindrances for turning left onto Rt. 33 from Johnson Road," Gibbs said. "These changes seemed to be working for some time, but recent changes in the volume and speed of traffic have brought this intersection back up in the conversation with local public officials."
He identified the prime concern of school district officials as "assuring the safe travel of our students and families to and from the school(s)."
School officials anticipate the situation at the intersection growing worse in the fall of 2022 "with all Grade 4-6 students attending The Plains location" exacerbating traffic volume, Gibbs said.
The superintendent recalled a "conversation" hosted by county Engineer Maiden last year in which parties discussed potential adjustments to the traffic pattern. "However, most involved millions of dollars of necessary improvements," he said. "The Board of Education and Administration of the Athens City School District welcomes the opportunity to meet and plan with the various state and county agencies who would implement any change at the intersection."
Like Parsons wrote in his letter, Gibbs said he appreciates "the work that has occurred to date to improve safety there, and hope that we can make additional modifications and/or restrictions in the near future to provide even greater safety for our students and families."