Daryl and his son Frank sat outside on a sunny day last week on Daryl's porch in Nelsonville as Nelsonville Code Enforcement Officer Becky Barber pulled up in a beat-up red 1994 Chevy truck. A small collection of large water containers sat at their feet.
Daryl, soon to be 63, and Frank, 39, approached apprehensively as Barber exited her truck and asked them how they were doing. Barber already had cited them for a violation of Nelsonville city code because their home doesn't have running water. (Daryl, Frank and another source in this story, John, asked that their last names not be used.)
After Barber assured them that she wasn't there to cite them again, the father and son relaxed a little.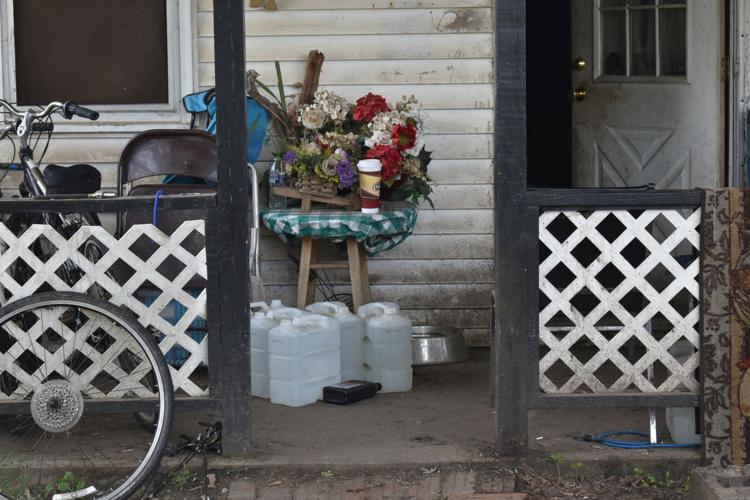 Daryl hasn't had running water in his home for at least a year or two, if not longer. In that time, he and his wife have been hauling all of their water from a spring–fed watering trough in Buchtel for cooking, cleaning and drinking. When they need showers, they go to a friend's house. When they need to use the bathroom, they pour some spring water into the toilet bowl and flush it.
Daryl and his family aren't alone. Dozens upon dozens of other people in Nelsonville have no access to water from their taps at home, despite the city of Nelsonville having its own water system. In the greater southeastern Ohio region, hundreds of other people are in the same (dry) boat. 
Still, like many in Appalachia, Daryl and Frank are resourceful. Frank came home to visit his dad about a month ago to help him fix up his home, and that work includes helping him install a new waterline after his pipes burst. Many of the waterlines in Nelsonville (incorporated in 1838) are ancient and in serious need of repair.
"We just have to get a new hot water tank and we'll be good," Daryl said.
Code enforcer Barber cheered that news when she heard it. "That's a big goal!" she told the pair.
Barber takes a unique view of her job, which she's only been working since late last year. She acknowledges that she's in charge of enforcing the city's codes, a job that ranges from making sure people's yards are trash-free to ensuring that people aren't living in homes that are about to fall down around them (it happens more than you'd think in Nelsonville, she said). 
However, with a background in social work, she said she recognizes that citing people for code violations won't help them address the root cause of their problems. Consequently, she has spent a lot of time getting to know people in Nelsonville in recent months, especially folks like Daryl.
She produced for this reporter a copy of a city document showing that some individual residences owe upward of $1,000 on unpaid water bills. She said residents can set up pay-as-you-go plans to chisel away at that debt, but many people spend all of the money they earn just on rent or house payments alone, some of them on buildings that clearly aren't worth what they're paying. 
Editor's note: The linked document below shows the water and sewer rates for all of the municipal and private water utilities in the region.
ONE OF THOSE BIG PROBLEMS in Nelsonville is water. The most recent estimate City Manager Chuck Barga could give is that approximately 45 properties in Nelsonville have their water shut off, although Barber said she believes the number is likely quite a bit higher.
"I think there's a lot of people that have had their water shut off for years and never get it back on, so they're just kind of under the radar and dealing with it," Barber said.
Barga said that roughly $96,000 in delinquent water fees are owed to the city, which is a large number for a city with roughly 5,000 residents (5,392 as of the 2010 census).
Daryl himself owes about $400 in unpaid water bills, which were accrued even before his waterline broke.
Daryl's also struggling with multiple health conditions including cancer, Frank said, and Daryl himself said he wants to fix up his house so he can sell it and move down to Florida to live out the rest of his life with relatives.
In order to accomplish that goal, the two will need to repair a recently collapsed back roof on their house (Frank contends that he was lied to when he bought the house, with the property owner in California allegedly saying it had a new roof, when it did not). Frank's also recently replaced the electric box on the property himself (he said he was once a computer technician, and has taught himself a lot of skills in his life) after regular problems with it, which meant borrowing $5,000 from friends and family. He even has aspirations to build his own solar panels on the property to make it self-sustainable.
All this work is challenging, though, and it's not cheap.
"I'm trying to get this place up and gone, get the back taxes paid, the water, the electric; it's hard on $771 a month," Daryl said. "That's all I got on SSI disability. I've had four heart attacks and three strokes."
Frank himself is on disability after being born with multiple health problems, and he said he was homeless for years when he lived in Columbus. 
Jack Frech, the formerAthens County Job and Family Services director and a longtime regional anti-poverty advocate, said that "water's been a problem for everybody in the Appalachian community for years and years."
As many communities' water systems are aging and failing, Frech said, cities and villages need to undertake multi-million-dollar projects to replace those systems. This means rising costs for area residents, many of them already living off low-wage jobs or fixed incomes because of their age or disability.
"This (water) is essential for people's health and wellbeing, and to have people in the county that are so poor that they literally just can't afford (water in their homes), there's something wrong with that," Frech said.
Barber said some Nelsonville residents are even worse off than Daryl and Frank, people who squat in abandoned, collapsing homes. For them, access to water is an even bigger struggle.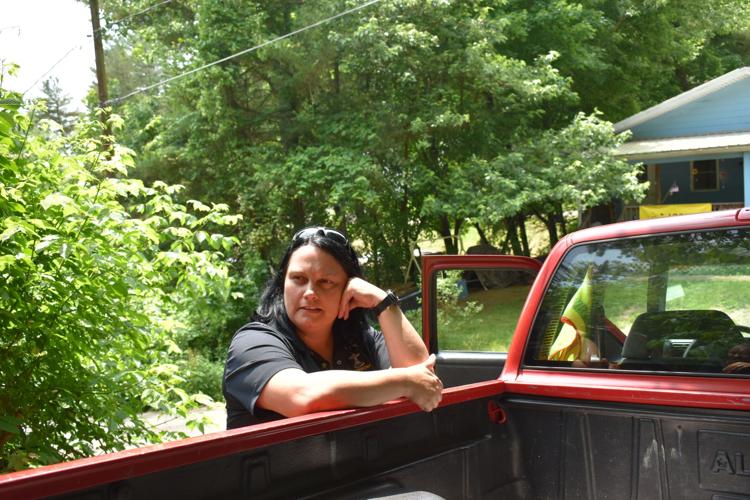 The city of Nelsonville's water rates are cheaper than many other communities in the region, but they have been increasing every year since 2017, to help the city make payments on a $4.4 million water-treatment plant constructed in 2015.
City Manager Chuck Barga said the city will be paying approximately $276,000 per year for 20 years to pay back the loans the city took out to pay for the new plant. To make matters worse, he said the city failed to file a loan-forgiveness application by the deadline in 2012 on a $1.4 million loan for the new plant, which would have allowed the principal of that loan to be forgiven. That's meant an extra $76,000 per year that the city is paying now, which it wouldn't have had to pay back otherwise.
"My understanding is that we had to file certain paperwork by a deadline and the city manager at the time failed to file that paperwork," Barga claimed. The city manager at the time would have been Joe Scherer.
Aside from that issue, Barga noted that many Nelsonville waterlines are 60 years or older, and repairs are regularly needed when there are waterline breaks. As an example, the city recently had to replace the water valves on the waterlines in the downtown area before replacing fire hydrants for a downtown revitalization project. The new water valves cost the city roughly $30,000, with one in particular costing $3,000.
"To replace all the waterlines, we're talking several million dollars," Barga said.
He added that the city recognizes that much of its residents are impoverished, so the city has been raising the water rates as slowly as it can – 4 percent this year, 4 percent next year, then 3, then 2.
Barga said he understands that some residents may be struggling to pay for water, but there's not much he can do.
"Becky works hard in trying to put them in contact with agencies that can help them with their utilities," Barga said. 
Help is here, but it's not enough
There are two main avenues for residents in Athens County to get help paying their water bills. Jean Demosky, director of Athens County Job & Family Services, said that the agency offers PRC (Prevention, Retention and Contingency) funds to income-eligible people (at or below 150 percent of the poverty line) to help them pay for their utilities. However, the family unit in question must have a child involved – either in-home, as a parent paying child support, or as an expecting mother. In total, Demosky said $3,300 was made available last year under this program in Nelsonville for water and sewer services.
"Payments ranged between $75 and almost $500 (per family)," Demosky said.
Meanwhile, the Hocking-Athens-Perry Community Action Agency (HAPCAP) kicked off a new program in February that provides water-bill payment assistance to households at or below 125 percent of the federal poverty guidelines, so long as their water is in the process of being disconnected or is otherwise already shut ff.
Jessica Stroh, community services director at HAPCAP, said that roughly $130,000 is available in the three-county area that HAPCAP serves to help pay for water bills, though the program ends on Sept. 30. The agency can pledge up to $200 to pay the family unit's water company to help get the water turned back on, though more can be made available so long as the family provides proof of its need. So far, roughly 150 households have received water-bill assistance from HAPCAP (for a total of 449 people).
"It's nice to be able to do it," Stroh said. "Some people's water bills are really, really high."
Frech in his role as the Vista volunteer with the Mayor's Partnernship for Progress – an advocacy group representing 15 counties in southeast Ohio, including Athens – has said that the MPP previously requested that the state make $12 million in roughly $600 million in unspent state TANF (Temporary Assistance for Needy Families) funds available for water-bill assistance and health products for poor people. The state in response made $500,000 available (in non-TANF, Community Development Block Grant funds) to the individual community action agencies in the MPP region to help pay for water bills, which allowed HAPCAP to start this program.
Many Nelsonville area residents like Daryl and Frank haul their water from a spring-fed water trough in Buchtel, roughly three or four miles away from the center of Nelsonville.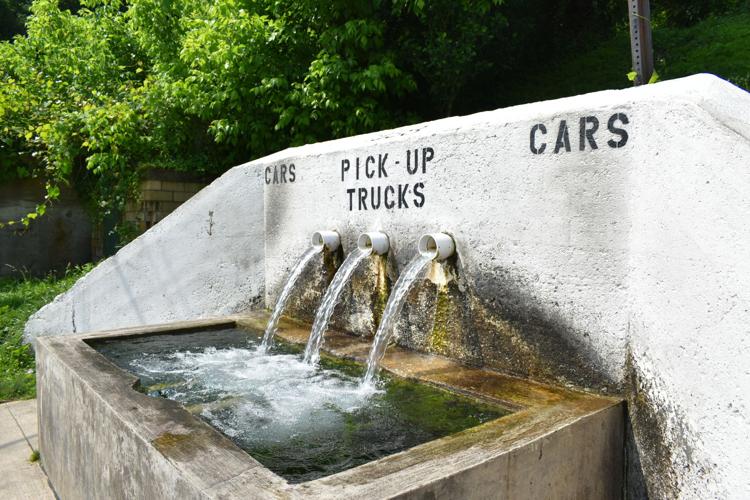 Nelsonville resident John is one of those people. John lives in an old home on the northern side of the city with his wife that hasn't had running water in the nine years that they've lived there. He and his wife are both living on Social Security paychecks and whatever small jobs they can cobble together (John was once a tattoo artist, and still does that on occasion). 
For John, the struggle began when he said he received a $1,500 loan from Hopewell Health Services to help pay a plumber to fix the waterlines in his home. The plumber did most of the work.
However, John added, "He said I needed to get some more parts, and I gave him the check, and he left. He never came back."
So John was left with no running water and a $1,500 loan he declined to pay back.
"I refuse to pay on something that somebody never finished," he said.
As a result, he and his wife haul water from the Buchtel trough when they need it, and take showers at their families' homes in Nelsonville, or they spend a night at a motel to use the shower.
The privately owned trough – built in the 1930s by the Works Progress Administration – runs from a deep underground lake. 
John – and Daryl and Frank – all said they trust the water from that source, even more than they would trust the city of Nelsonville's water.
"Oh lord yes, that's good water," John said.
However, James Gaskell, commissioner of the Athens City-County Health Department, said that that spring is not regularly tested by the Health Department or the state EPA, and no associated regulations cover that water like they would with municipal and utility-level private water systems. He said his agency could recall one time in recent years when the water was tested by his department, and that only happened because somebody said they might have gotten sick after drinking the water. The test did not turn up any signs of bacteria or other health risks, and at the time it seemed to be safe to drink.
Gaskell said his agency hasn't fielded any other complaints about the water, and noted that people have been drinking that water for decades without any apparent adverse health effects.
This reporter sat near the trough for about 15 minutes last week, and watched five people come and go, filling up jugs.
THE SOLUTION TO THESE issues and others in the community for some residents such as John and Daryl is to simply leave Nelsonville once they're able to. However, not everybody can afford to do that.
John said that he bought his house under a land contract and is in the process of getting an OK from the bank to sell it after the former owner passed away. He and his wife are ready to get away to a parcel of land on the river in another southeast Ohio community, Malta.
John said he's tired of the drug problems in Nelsonville. "There's too many meth heads here," he said.
Daryl agreed, and said Nelsonville has a serious problem with hard drugs. Barber herself has helped clean up multiple abandoned homes in the community, and once while cleaning up two houses, found three-dozen-plus used needles (she has a "sharps" container in her truck).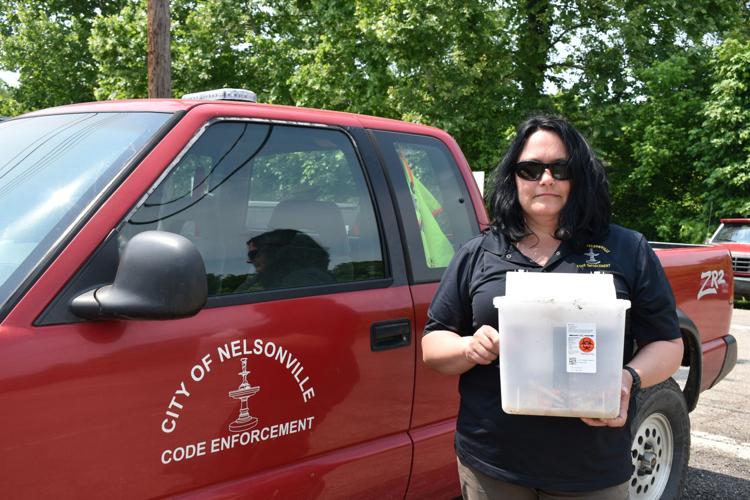 One reason for the blighted housing, Barber said, is that for many people in Nelsonville, they too tried to buy their homes through a land contract, but didn't get everything in writing they needed to.
So, while they might have had a "verbal contract" to pay the home's owner each month to buy the home in installments, there's no protection when the landlord reneges on that deal.
"One guy had a verbal contract to pay $800 a month" to an out-of-state landowner. Barber said. "He was on SSI and barely made that in one month… he did that for seven years."
However, during that time the building, which already was in bad shape, deteriorated even further because the resident could afford to pay for property maintenance, which led to Barber citing the building's owner for the code violations. Eventually, the building's owner forced the resident out of the building, despite the years of paying on the building.
"It (land contracts situation) is essentially people making a ton of money on poor folks," Barber alleged.
On a related note, Barber has begun to seek help from city officials and local volunteers to clean up blighted properties in Nelsonville. People can follow along with her, and even volunteer to help out, by following the Nelsonville Code Enforcement Facebook page.