For as long as anyone can remember, illegal dumping has been a serious problem in rural parts of Athens County, and that remains the case today. Yet, some local officials and volunteer groups are working toward more effective action to address the issue, both in cleanups and enforcement.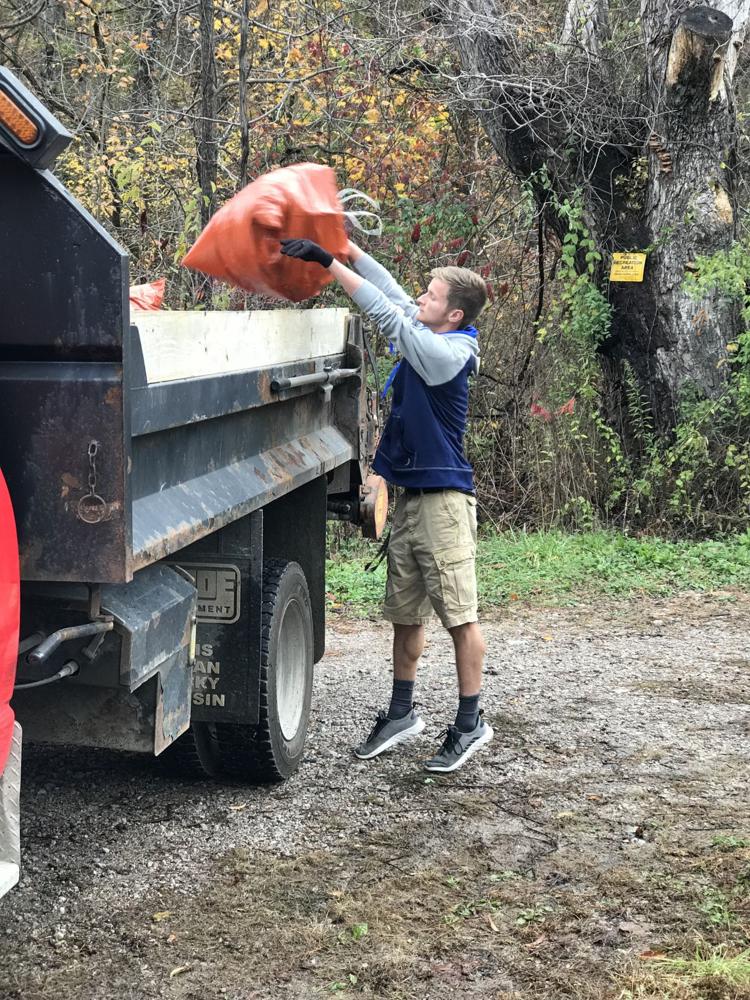 On Sunday, Oct. 27, seven members of the Alexander Interact Club – a new service organization at Alexander High School – spent two hours picking up trash at two dumpsites in the New Marshfield area, according to Charla Johnson, who with Russ Norris advises the group.
For Waterloo Township Trustee Gregg Andrews, this is a major environmental issue in rural parts of Athens County, and the Interact Club student volunteers focused their Oct. 27 efforts on two dumpsites in the township, one on Beckler Road off of Ohio Rt. 56 and the other on Poston Salem Road.
With the Beckler Road site, Andrews said, a cleanup took place as recently as last spring, with township employees doing the work while involved in the annual cemetery cleanup.
"The area was dump free for a few months," Andrews said, "but again dumpsters decided to unload their refuse illegally."
Unfortunately, he added, township employees don't have time to keep up with the need to clean up dumpsites in the township, which is likely the case in other Athens County townships as well.
"After talking with several township residents, the Alexander Interact Club and others, we decided on a collaborative effort between the township, local volunteers and the Athens Hocking Solid Waste District to clean up (the two aforementioned dump sites)," Andrews said.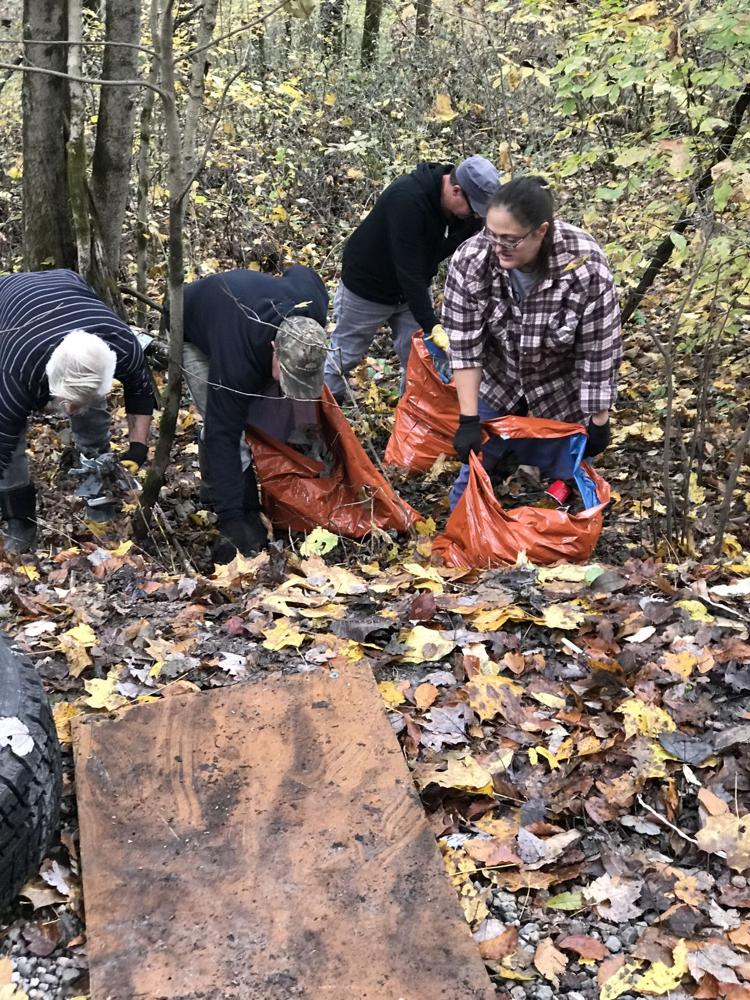 He explained that Waterloo Township provided a dump truck, the Solid Waste District provided trash bags and gloves while covering the dumping fees, and the Interact Club and several volunteers donated the labor.
"On Oct. 27, a brisk autumn morning, the volunteers converged on the two dumpsites filling the dump truck with a variety of discarded items ranging from household trash, building materials, furniture and several pieces of identification that will be submitted to the (Athens County) Sheriff's Office," Andrews said. "The sites looked much better, and the volunteers were proud of their accomplishment."
Unfortunately, he added, less than a day later someone had already dumped a sectional sofa at the Poston Salem Road site.
The problem, according to both Andrews and Athens County Commissioner Chris Chmiel, is that the only effective deterrent to illegal rural dumping is prosecution and conviction, and for whatever reason, it's not happening enough to deter the criminal act of dumping trash in rural spots.
CHMIEL VOUCHED FOR the fact that illegal dumping isn't a new problem in Athens County.
As a student at Ohio University between 1988 and 1992, Chmiel said he participated in "many illegal dumpsite cleanups" organized by Athens County Health Department staff people, Ed Newman and Tom O'Grady.
"These experiences helped me get to know Athens County and the interesting extremes of scenic beauty and environmental poverty issues," Chmiel said. "It is unfortunate that these same illegal dumping issues have not really been resolved in our county or region 30 years later."
The Commissioner's current work with the Athens County Land Bank also has exposed many examples of illegal dumping, Chmiel said, while also illuminating the lack of effective leverage so far to persuade or force people to clean up dumpsites on their own properties.
Jack Pepper, director of the Athens City-County Health Department, agrees that illegal dumping is a serious problem here, and that more can be done to discourage it.
"Yes, it is an issue for Athens County, and depending on relative distance to adjoining property owners, the issues can be magnified greatly due to the impact on those owners," he said.
Pepper voiced some frustration in how the problem is being addressed in Athens County, however. The county has a "very defined legal process in place to address violators of Board of Health orders," Pepper said.
Yet, he noted, while "we are fortunate to have an excellent working relationship with the county prosecutor and local judicial system, …based on some of our more recent court cases, we clearly have not communicated effectively to the local judicial system our preferred resolution in solid-waste nuisance cases."
At the end of the judicial process, he said the Health Department's preference is to ensure that the nuisance in question – illegal dumpsites – "has been properly abated in the most efficient and cost-effective way possible." 
Pepper did note "solid progress" in addressing the solid-waste issue in Athens County "through our partnerships with local and state organizations. Those partnerships must continue."
However, he reiterated the importance of more effective enforcement of dumping laws. 
"It is critical that those pursuing solid-waste nuisances are clear in the desired outcome, and those who ultimately decide the fate of those violating the laws are steadfast in achieving that outcome," he said. 
Pepper concluded, "Proper planning to prevent these situations from occurring in the future is paramount; resolving historical sites but allowing new sites to develop is not a model that allows for the desired long-term vision for Athens County."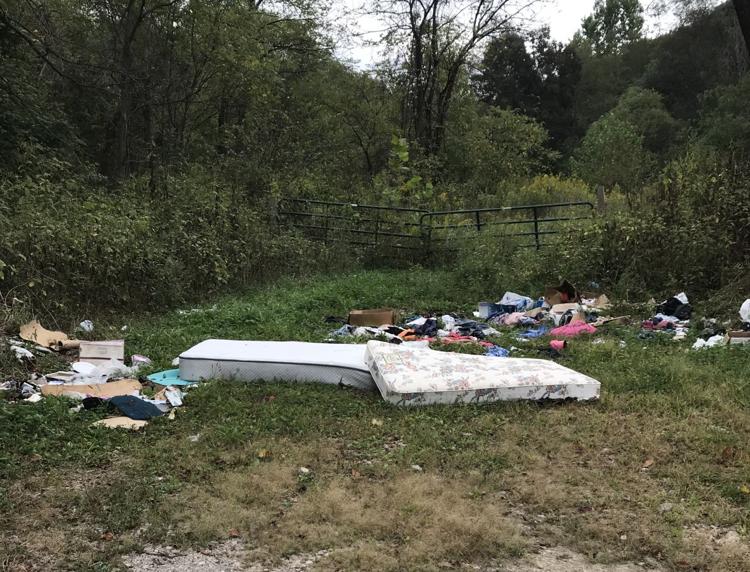 Athens County Sheriff Rodney Smith said his department tries to enforce laws against littering and dumping, but often the offender hasn't left any identifying evidence that will lead deputies back to him or her.
"Every time we find something of evidentiary value, leading us back to a suspect, we find and arrest them," Smith said. "But often there's not enough evidence."
In some cases, he said a surveillance camera  (actually a trail camera) is set up to identify illegal dumpers, a tactic that has worked in some cases.
Smith confirmed that the Sheriff's Office does have an environmental officer, Deputy Tim Moquin, who doubles as a transport officer. He handles littering and dumpsite enforcement, according to the sheriff. Moquin replaced Det. Doug Crites in that position.
COMMISSIONER CHMIEL SAID he's interested in exploring options for the county to deal with illegal dumps and dumping.
He suggested the possibility of mandating trash pickup through one or more trash districts where the work is bid out to interested companies.
"The benefit of this would be everyone would get trash pick-up," he said. "It would definitely be cheaper and more efficient because you wouldn't have five or six companies driving all over the place serving their customers. The pool of customers would go up as well."
Chmiel acknowledged that this "would be politically challenging" but feels it's worth exploring, perhaps on the township level at first and then expanded later.
Another idea advanced by Chmiel is "some kind of an environmental court."
"Several counties in Ohio have these," he noted. "What I would like to see out of this type of institution is some creative sentencing. I don't really think putting poor folks in jail or giving them fines is the desired outcome. What I think we all want is to get our communities healthier and more prosperous. Folks who have violations could be put to work with community service towards similar goals."
Whether in an environmental court setting or some other mechanism, Chmiel said he'd like to see "some creative sentencing that helped solve the problem. Could a judge mandate an offender to have trash service and show proof to the court? Things like this."
The Commissioner didn't seem wedded to any particular strategy for attacking the issue of illegal dumps and dumping.
"Solving this problem isn't going to happen overnight," he agreed. "It also isn't going to happen if we don't try and address it. By not addressing it, I fear our county and region will remain poor and unhealthy. If we can creatively and sensitively attempt to address the culture of trash, I believe that we can make things happier, healthier and more prosperous."