After declining attendance over the last several years, Number Fest – the major college music festival held just outside Athens every year since 2004 (and twice in 2013) – has come to an end.
The music festival was a staple for party-hungry Ohio University students throughout much of the last two decades, starting out small in a ridgetop field on Stagecoach Road outside Athens in 2004 and growing considerably in the time since. Always, though, the festival's core formula remained much the same: OU students and their road-tripping guests partying while listening to popular music, with many getting intoxicated and (usually) muddy in an outdoor environment.
The festival became controversial in its later years due to the impact it had on the city of Athens and nearby neighbors to the festival, with local residents complaining bitterly about traffic, trash and bad behavior from intoxicated partiers.
Starting with Number Fest's seventh incarnation in 2010, the festival began to draw major hip-hop and electronic acts, often before they became huge. Just some of the big Number Fest artist alums include Mike Posner, Kendrick Lamar, Diplo, Wiz Khalifa, Machine Gun Kelly and Schoolboy Q. With that growth came a move in 2011 (Eight-Fest) to a more permanent location in a field later dubbed The Venue of Athens, located off West Union Street/Ohio Rt. 56, a few miles west of Athens.
Festival founder Dominic Petrozzi, an OU alum and festival partner with Columbus-based Prime Social Group, noted in an interview Monday that it's been "a hell of a ride."
"I'm very proud of what we built," Petrozzi said.
Petrozzi said the festival struggled in recent years to bring in as many attendees as it once did, something he chalked up to a variety of factors: A change in the culture at OU and among its students (with reduced acceptance of binge drinking from many different sources, which Petrozzi acknowledged is a good thing); the change from semesters to quarters at OU, which pushed Number Fest back into April in 2013, when weather is often rainy and cold; and Prime Social Group's growing portfolio of other music festivals and endeavors (PSG also runs Breakaway Music Festival in Columbus and five other cities).
Plus, Petrozzi said that he and his partners always wanted to keep the festival affordable, in the $40-$50 ticket range, which is a difficult task considering the cost of booking major artists nowadays.
"The economics of the music festival business has drastically changed to where in order to provide an affordable ticket price for college students, it was very hard economically to provide a lineup that would stack against the history of Number Fest," Petrozzi explained. "We didn't want to get into charging students $100 a ticket, although for a lot of these music festivals these days, a weekend pass costs 400 bucks."
Festival headliners last year at 16-Fest, the festival's 17th incarnation ("Halftime-Fest" took place in early October 2013) were to include Rich the Kid and Rae Sremmurd, but Rich the Kid did not show at the last minute, which was another blow for the festival.
Petrozzi confirmed that "Prime Social Group as a whole is probably done in Athens," though he said he didn't want to "close the door" totally on any future opportunities for events or shows. That means that the Country Night Lights event that ran at The Venue of Athens location in 2015 and 2016 likely won't be returning (despite Prime Social Group buying The Venue of Athens land in 2015).
"If an opportunity came to light, we'd potentially look into doing something, be it on our property or elsewhere in the community, but we've got no real plans in the future to do anything," he said.
AT THE HEIGHT of Number Fest's popularity, probably in 2014 or 2015, attendance numbers at the festival hit critical mass – with at least 16,000 attendees at 12-Fest in 2015, if not more. Around the same time, the chorus of complaints from area residents and members of Athens City Council and the Athens County Commissioners hit a fever pitch.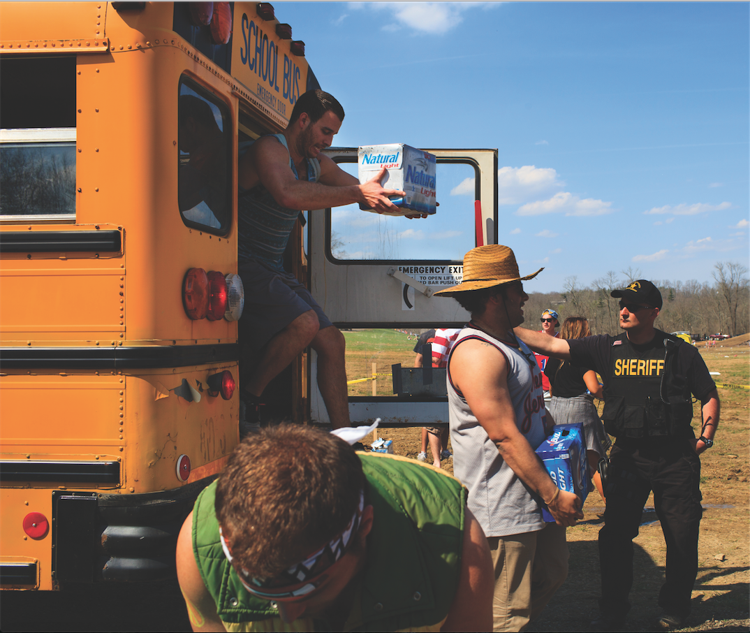 The final straw that broke the camel's back likely occurred in 2015. That year, the Number Fest organizers had hired numerous buses to pick partiers up in Athens and take them out to The Venue of Athens. Delays at those pick-up sites led to masses of students and others waiting an hour or more, leaving trash in their wake. Meanwhile, the transportation system collapsed later in the evening after the festival ended – Petrozzi himself admitted in 2015 that the new system had "failed."
One of the buses in front of a long line of others got stuck on a hilly climb up a narrow road leading out of The Venue, after which the festival-goers began rocking buses, busting out bus windows, and rushing off or on the buses in a panic.
Many fest-goers ended up walking home on the dark Ohio Rt. 56 roadway after that – as they had several years previously. That aspect of Number Fest after it was moved to The Venue of Athens (from more rural sites southwest of town) always annoyed and angered nearby residents, causing the roadway to shut down for two or so hours and with partiers acting belligerent and leaving trash in their wake as they marched (or tottered) home. 
After 2015's Number Fest, Athens City Council and the County Commissioners began exploring how to crack down on the festival, hearing a torrent of complaints from local residents. Athens County Sheriff Rodney Smith and Capt. Ralph Harvey with the Athens Police Department both said their officers would get overwhelmed with calls for service on the day and evening of Number Fest.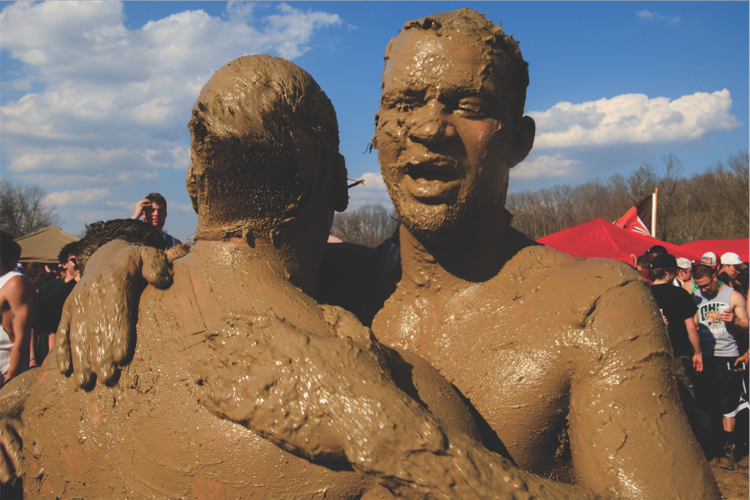 Then state Sen. Lou Gentile, D-Steubenville, at one point in 2015 pledged to find a way to create a legislative fix for the festival's issues because the county government had very few ways to regulate it under Ohio Revised Code. The festival site was outside the Athens city limits. A law proposed by Gentile to do just that was dropped from the state's two-year budget bill by Ohio Senate Republicans that year, Gentile said at the time. 
Michele Papai, an Athens City Council member at the time, was one of Number Fest's most vocal critics at the time (and still is). She said she was glad to see it go in a brief interview on Tuesday.
"Public safety was always my number-one concern, from the festers walking back and forth on Rt. 56 to the neighbors that live nearby that had to put up with the noise and the behavior, whether it was trespassing on their property or (other) safety issues that were around that," Papai said.
After that year, the festival ended its "bring your own beer" policy – one of the factors over the years that most appealed to OU students – and added additional improvements to the site to improve traffic flow (as well as a parking lot).
The irony is that the end of the BYOB policy might have hurt attendance at Number Fest bad enough that it never recovered, judging from the negative reaction from students and others at the time. 
Alan McMillan, a local businessman and owner of the Union Street Market, where Number Fest tickets were sold, was a fan of Number Fest, defending it in 2015 when it underwent a deluge of criticism. He said in an interview Tuesday that Petrozzi and Number Fest should be celebrated as an entrepreneurial success story.
"It was started in a dormitory room at Ohio University, and it grew into one of the largest college music festivals in the nation," McMillan said.
McMillan added that he did not believe the community adequately supported Number Fest despite the economic opportunities it brought for local businesses, especially those selling beer/alcohol, food, gas and providing lodging (McMillan said hotels in the area would be booked up during the weekend).
Off-duty local law-enforcement officers also benefited over the years, moonlighting as private security for the festival. Before 2009's Six-Fest, Petrozzi had often used OU football players for security.
"As a community, did we say, 'well, let's try to fan the flames of success' (for Number Fest)? I don't think we did," McMillan said.
Athens Mayor Steve Patterson said Tuesday that when he was on City Council, he recalled flying over the festival and the city of Athens in 2015, and feeling "deep concern" about the impacts of the festival on the city.
However, Patterson said that eventually Petrozzi and others with Prime Social Group ended up working with the city after negative issues came to a head in 2015, listening to the city's concerns and implementing changes that helped calm the event and reduce its impact on the city.
Petrozzi in a separate interview thanked Patterson and others who worked with him to reduce the negative side effects from Number Fest.
"(They) were great to work with during the latter years, and I felt it was very beneficial as to how things were being run," Mayor Patterson said. "We were also getting updates in from Dominic in terms of their ticket sales and it just seemed like there was a precipitous decrease in attendees (after that)."
Patterson said he wasn't sure if that drop was due to ticket prices increasing or the end of the "glitz and glam of walking out there with your beer."
Petrozzi said he couldn't pinpoint the festival's end to any one factor. He added that in addition to the drinking culture evolving at OU, "this generation" of college students is more conscious of health and wellness, not drinking to excess as much as previous generations. 
"Those all are really positive things for humanity in general, but, when you're an event predicated on crazy, wild times… I just think it's a natural selection thing," Petrozzi said. "It comes with the evolution of society."
AN ATHENS NEWS ARTICLE about the 2009 Number-Fest did a good job of describing the essence of the annual festival: "Petrozzi said he expects the crowd to exceed 15,000 this year. The formula is the same as every year: BYOB for over-21, local vendors selling food, no glass, rap artists playing from 12:30 p.m. till 11 p.m. … Tables and lawn chairs are OK, but no furniture. Ticket prices have gone up to $15 pre-sale and $25 at the event."
Petrozzi, originally from Columbus, was an OU senior in 2004 when he held One Fest. As a freshman and sophomore, he took part in the fraternity-based Derby Days festival in the same field on Stagecoach Road as the first several Number Fests, Petrozzi said in a 2007 interview. After Derby Days was discontinued his junior year, Petrozzi said he took a summer internship with an event-coordination company in Columbus and learned how to put together a small event. With that knowledge in hand, he created One Fest, and the rest was local history.