A little more than a year ago, The Athens NEWS ran a story headlined, "Medical Marijuana Dispensary About Ready to Open in Athens." The lead paragraph in the Dec. 31 article stated, "An official with a new medical marijuana dispensary on West Union Street in Athens says that business could open its doors as early as this week, depending on the availability of supplies."
To say that prediction was overly optimistic is an understatement. A year later and the designated dispensary building on West Union Street/Ohio Rt. 56 in Athens has yet to open for business, despite displaying a big "Harvest" sign out front.
A web of legal and bureaucratic obstacles has prevented the company, Harvest of Ohio LLC, from opening its Athens medical marijuana (MM) dispensary, as well as one each in Clintonville (Columbus) and Beavercreek (Dayton). While Harvest obtained initial approval from the Ohio Pharmacy Board to open its three dispensaries, it has yet to receive operational approval. Harvest's planned marijuana growing operation in Ironton/Lawrence County, Ohio, also is awaiting operational approval from the Ohio Department of Commerce.
IN THE MEANTIME, PATIENTS in Athens County with legitimate medical recommendations for medical marijuana have been traveling to Logan, Jackson, Lancaster or Columbus/Grandview Heights to obtain their medical marijuana. Logan, where Strawberry Fields opened a MM dispensary on Dec. 11, is the closest at a half-hour drive from uptown Athens. The Jackson dispensary, Buckeye Botanicals, is nearly 45 minutes, the Lancaster/Carroll dispensary, Ohio Provisions, about an hour, and the Columbus dispensary, Terrasana, in Grandview Heights, is around an hour and 20 minutes. For people in the Nelsonville area of Athens County, the Logan dispensary is only a short drive away.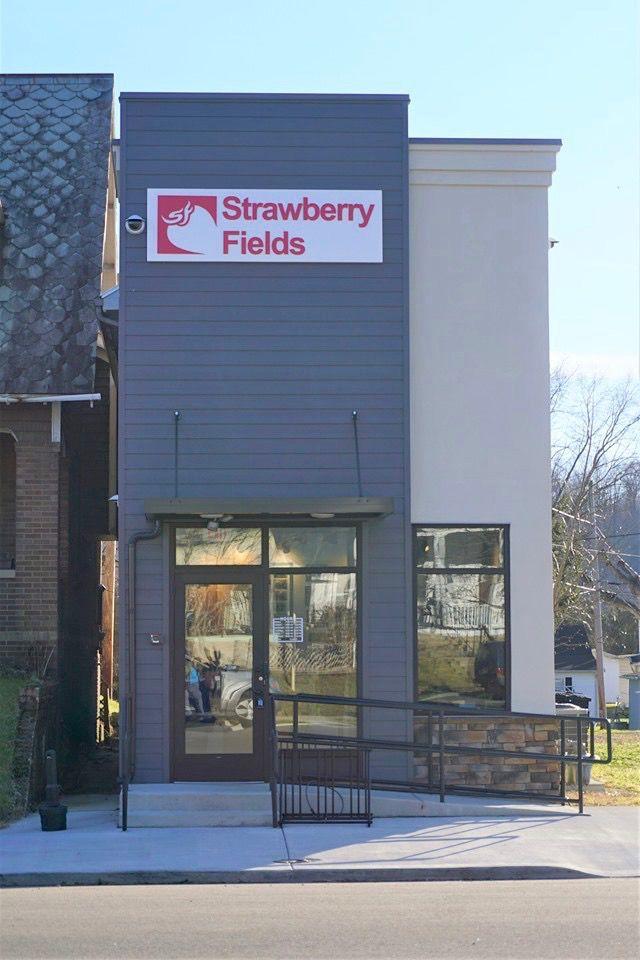 Athens County isn't alone in its current status as a "desert" for MM dispensaries, though the situation has been improving. According to an Aug. 26 article in the Akron Beacon Journal, "Eight months after the first store opened in January (2019), dispensary deserts cover large swaths around Cincinnati, Akron, Marietta, and Appalachia to North Central Ohio."
Many more have opened since then.
As of Jan. 1, Ohio had 45 operating dispensaries, according to the Ohio Marijuana Dispensaries website, which lists all of their addresses. Ohio has 21 qualifying medical conditions for medical marijuana. (See accompanying list.)
According to an update provided by the Board of Pharmacy, as of Jan. 3, 47 dispensaries had received a final certificate of operation. As of Nov. 30, 2019, 74,768 patients had been registered in Ohio, with 51,237 unique patients having purchased medical marijuana.
The reasons for delays in opening MM dispensaries range from local political opposition to questions about the dispensaries' ownership. The latter issue applies to Harvest of Ohio's three planned dispensaries, including the one in Athens, though Harvest's situation is especially complex and unique due to legal and other issues.
It's possible the regulatory logjam could be broken in March when Harvest of Ohio is scheduled to appear before the Ohio Board of Pharmacy for a three-day administrative hearing. The hearing, scheduled for March 5, 6 and 9, will be open to the public.
If the hearing takes place, it's expected to air Harvest of Ohio's attempts to persuade the Pharmacy Board to remove a hold on Harvest's plan to open its three MM dispensaries in Ohio, including the one in Athens.
LAST JULY, THE ATHENS NEWS reported on the SNAFU preventing Harvest of Ohio from proceeding with its plans. Since then, not much has changed, though two court rulings against minority set-asides for MM dispensaries in Ohio could have an effect on the situation (more on that later).
The NEWS reported at the time that the Ohio Board of Pharmacy was investigating Harvest of Ohio LLC, on allegations of fraud and misrepresentation, according to documents obtained by the Cincinnati Enquirer as reported in a July 10 article. That was preventing the state from issuing a license to operate for Harvest.
The Athens NEWS at the time had requested the documents mentioned in the Enquirer article but an Ohio Board of Pharmacy spokesperson declined to provide them due to Harvest of Ohio filing for a temporary restraining order (TRO) on the release of the documents in Franklin County Common Pleas Court.
At the same time, however, the Board of Pharmacy's focus in investigating Harvest of Ohio appeared to be an open secret, The NEWS reported. In its reply opposing the TRO request, the pharmacy board noted that Harvest was issued three licenses pursuant to a provision in Ohio's medical marijuana law requiring that at least 15 percent of all MM dispensary licenses be issued to companies majority-owned and operated by someone from one of several "economically disadvantaged" groups, including African Americans.
That designation allowed a lower-scoring company to potentially leapfrog over higher-scoring applicants who didn't have disadvantaged status.
"The (state Pharmacy) board later investigated Harvest related to its status as an economically disadvantaged group," the filing reads. "Based upon Harvest's operating agreement and additional information discovered by the board, Harvest was issued three notices alleging that it does not meet the criteria for licensure as an economically disadvantaged group."
An article that appeared in the Columbus Dispatch and Cincinnati Enquirer on Dec. 13 reported that rather than having substantial minority ownership as claimed by the company, "state regulators say the business was actually owned and controlled by executives of multi-state operator Harvest Health and Recreation."
In an email last July 25, Harvest spokesperson Ben Kimbro said that the business was looking forward to "correcting the record" on the issue.
Kimbro wrote, "The notices filed by regulatory bodies in Ohio contain certain inaccuracies and mischaracterizations regarding our ownership structure, operation and management of Harvest of Ohio, LLC. We're working closely with regulators in Ohio to ensure they better understand our structure, and we are committed to operating transparently in every state in which we operate…"
ASKED LAST WEEK whether the impasse with Harvest of Ohio might be resolved before the Board of Pharmacy hearings in early March, Ali Simon, a spokesperson for the board, said, "With all board hearings, there is a potential that a settlement agreement could be reached prior to the public hearing."
As for whether another applicant in Athens or Athens County might be considered, Simon said, "The board will not re-award a provisional license to another applicant."
She explained that the Board of Pharmacy is required every two years to review whether additional licenses are needed. "Applicants would have to go through a request for application (RFA) process, similar to the first round of applications that included Harvest. At this time, the Board has not determined when a second RFA process would occur."
Meanwhile, two court decision in the past year cast severe doubt on the legality of the minority set-aside process that's at the heart of Harvest of Ohio's dispute with the Ohio Pharmacy Board and Department of Commerce.
In an article in the Canton Repositoryin November, Board of Pharmacy spokesperson Simon said the board had not decided whether to appeal the latest court ruling, issued Nov. 4 in Madison County, that went against the minority set-asides for MM dispensaries.
"At this time, the board is still reviewing the judge's ruling and determining next steps," Simon told the newspaper in an email.