How green is Athens?
We examine whether the city walks the walk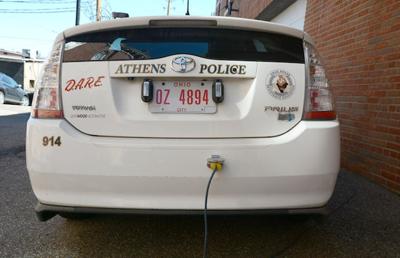 Editor's note: This is the first story in a series analyzing how "green" and "sustainable" our local governments are. We've started with the city of Athens; Athens County government and Ohio University are next.
The city of Athens has long been a progressive city, both socially and economically. The city's staunchest supports often talk a big game about its efforts to be a sustainable, environmentally responsible municipality. But is it walking the walk in terms of sustainability, green energy, and energy and waste reduction?
To answer that question, we reached out to Athens Mayor Steve Patterson with a series of questions, which he answered via email last Friday.
For starters, one of the biggest steps the city has yet to take is in the area of green energy. Currently, all of Athens' municipal buildings are powered by non-renewable energy, Patterson confirmed. The municipal buildings are on a shared mercantile account with Athens County's government buildings through the Southeast Ohio Public Energy Council's (SOPEC) electric aggregation program.
However, the city acknowledges its lack of renewable energy as an issue in its Sustainability Plan, which Athens City Council approved earlier this year.
"Mercantile accounts through SOPEC are under contract through May 2019 and are currently using non-renewable energy," Patterson said. "…(The) sustainability plan recommends city services using renewable energy with a focus on creating locally generated renewable energy."
Eddie Smith, executive director of SOPEC, said the city of Athens has expressed interest in changing its energy portfolio to include renewable energy. Currently, Smith explained, city of Athens residential customers who are signed up for electric aggregation through SOPEC receive energy coming from 100 percent renewable resources (i.e., renewable energy credits for wind energy purchased from Texas).
At the same time, the city of Athens does have a significant 224-kilowatt solar array at the Athens Community Center. In Athens' 2010 20-year power purchase agreement with SolarVision, the city agreed to buy back the electricity generated by the array, and upon completion of that agreement, Athens will own the array and then receive the energy at no cost, Patterson said.
The city also has a number of administrative structures and regulations to help encourage sustainability and to protect the environment. For example, Athens has a volunteer Sustainability Commission that meets regularly, and works on initiatives such as the aforementioned Sustainability Plan. The city also has s Shade Tree Commission, and regulations requiring trees to be planted with new developments in Athens, both public and private. For years, Athens has been designated a "Tree City USA" by the Arbor Day Foundation.
Meanwhile, the city also has a Wellhead Protection Plan that's designed to protect the city's water supply and prevent leaks of harmful chemicals into that supply. It also has an oil-and-gas fracking/drilling activity ban approved by voters in 2014 in the form of a Community Bill of Rights, though as of yet Athens hasn't seen any drilling proposal that would trigger enforcement. 
Patterson recently joined a collection of 330-plus other U.S. mayors in committing the city of Athens to sticking with the principles the U.S. had previously agreed to under the Paris Climate Accord, from which U.S. President Donald Trump recently withdrew the U.S. Athens City Council also recently approved a one-reading resolution aligning the city with those Paris Climate Accord goals.
While the city has made it clear it wants to change its energy-consumption habits, Athens also in recent years has attempted to add sustainable and green-energy elements to its construction projects.
Mayor Patterson noted that the city is reviewing design plans for a solar array at the city's water-treatment plant on West State Street, which is set for the first phase of renovations soon.
Patterson explained that the city's biggest electricity users are the water-treatment and wastewater-treatment (WWTP) plants, the latter which recently underwent a massive renovation project. That project included energy-efficiency upgrades.
 "The WWTP upgrade entered into an agreement with AEP under the new construction," Patterson said. "The plant received incentives based on the plant's Total Lighting Power Density, VSD (variable speed drives) on our HVAC system, as well as VSD on the plants motors and drives."
The mayor explained that the WWTP has a small 2-kilowatt "micro-hydro system" designed with the help of TechGrowth Ohio and Ohio University engineering students to capture energy from the WWTP's outflow that discharges into the Hocking River.
Meanwhile, the city of Athens' fleet of vehicles is also a big producer of greenhouse gases. Currently, the city only has three hybrid vehicles, though Patterson said the city tries to replace older vehicles with newer, more efficient ones each year.
To that end, Athens is exploring "fleet leasing," Patterson said, which is a plan through which the city could use new, more fuel-efficient vehicles or possibly hybrid or electric vehicles, and would update those vehicles every three years.
"We are exploring ways to introduce more alternative-fueled vehicles into our fleet," Patterson confirmed. "One of the challenges with the city fleet is that we have many specialized vehicles that are only available as diesel vehicles (i.e., tractors, dump trucks, etc)."
The city of Athens also this year purchased a Nissan Leaf electric vehicle for the city's Code Enforcement Office. Code Enforcement Director Rick Sirois, who drives that vehicle, said Tuesday that it keeps its charge for about 115 miles (he averages about 50-60 miles a week driving the car around town). He said he hoped the code office can obtain two more electric vehicles next year.
Waste reduction, efficiency
Patterson noted that the city of Athens' recent "perfection" project addressed "lighting inefficiencies" in the city's various administrative buildings, including installation of more energy-efficient lighting in the main city building, the Code Enforcement Office, the Engineering and Public Works Department, the Community Center, the parking garage and the fire stations. The city also, through that project, installed a new heating and cooling system and automated sinks and toilets at the Community Center, and installed new boilers in the main city building that are "much more efficient," Patterson said.
The city's Engineering and Public Works Department also replaced existing ramp and street lighting with LED lights, and Patterson noted that all new street lights are LED (all signals are already LED). These bulbs consume much less electricity than traditional incandescent bulbs.
The city also has – through its partnership with the Athens-Hocking Recycling Center – moved with OU toward single-stream recycling, which has encouraged diversion of waste from the landfill.
Additionally, the city of Athens last year purchased new 64-gallon recycling carts for much of the city's residences (which cost the city about $235,000), which Patterson said has increased the amount of recycling in the city. The city also installed solar-powered BigBelly trash/recycling compactors in the uptown area (leased for $50,000 a year), which reduce the amount of garbage and recycling hauled away.
"We added refuse/recycling combination units to all of our parks through an Ohio EPA grant," Patterson explained. "This gave us a permanent recycling presence in the parks. Finally, we purchased compostable yard waste bags for our residential grass and brush program. We also worked with Ohio University to take all of our brush and clippings to their composting site, which reduced the amount of miles that we spent hauling materials."
Athens also has its contractors recycle asphalt and concrete pavement removed during construction projects, Patterson confirmed.
Meanwhile, the city signed a contract with Rural Action last week for that non-profit to perform a "Zero Waste" audit of some of the city's larger buildings (including the Community Center) to provide recommendations on waste reduction.
Patterson confirmed – after checking in with the Sustainability Commission – some central recommendations that are key to the City Council-approved Sustainability Plan. They are: 
• Reduce water consumption per person, with special attention given to rental properties.
• Reduce energy consumption per person and develop renewable-energy programs with consideration given to "locally generated renewables."
• Establish programs to retrofit homes and rentals for energy improvements, and encourage more efficient new construction.
• Increase Athens' Zero Waste initiatives such as curbside composting, recycling of hard-to-recycle materials, and reduction of total waste generated from all sources.
• Improve Athens' "multi-modal transportation network," including improving public transit, bicycle and pedestrian infrastructure.
• Increase of middle- to low-income housing within Athens city limits.
• Require new construction projects to "divert construction/demolition materials from landfill."
• Support local entrepreneurship by purchasing local products, incentivize local start-ups to expand in Athens, and designate a permanent home for the Athens Farmers Market. The market is still at The Market on State mall, despite some consideration in recent years given to a possible new location on the campus of the Athens Community Center.
• Increase "green infrastructure" for both city projects and private development.
• Create a sustainability awareness and education program.