Even as Ohio begins to slowly reopen certain sectors of the economy, Athens County businesses are struggling to stay afloat during the coronavirus (COVID-19) pandemic. 
Despite that struggle, business owners are trying to stay hopeful, and positive stories of community strength during a dark time abound. Over at Tavolino, a small Italian restaurant on North Shafer Street in Athens, owner Emily Christine (Johnson) has been providing free lunches to people, no questions asked, for six weeks now.
"I've decided to do it at least through September," she said. 
She said she knows many people are struggling right now, having lost their jobs or otherwise had their hours reduced, so this is her way of helping her community. 
"It's a thank you to the community, because everybody has been really supportive and wonderful, and there are already a lot of people in this area that are not doing OK food-wise, and now there are even more because of this entire (pandemic)," Johnson said.
She also has a "soup on hold" policy where people can pay forward for a free bowl of soup for anybody stopping by who needs one, which she said is being used "heavily" right now.
As of last Thursday, the total number of people in Ohio who had filed for unemployment was about 965,566, almost 9 percent of the state's total population. In Athens County, as of mid-April, 2,137 unemployment claims had been filed.
Many local businesses are struggling but are learning to adapt to the "new normal" of the pandemic. For local restaurants, that means continuing to adapt to a carry-out/delivery-only model as Ohio's ban on in-house dining continues.
Over at Fluff Bakery, owner Jessica Kopelwitz said Monday that her business just reopened after a two-week closure. Luckily, she said she (along with many other business owners in Athens) has received a federal Payroll Protection Program (PPA) loan to keep her 10 employees working during that time.
In terms of adapting to the new, challenging business climate, Fluff has opened a carryout window on its storefront on North Court Street, and is working to add a new online ordering system, Kopelwitz said. Meanwhile, the restaurant is offering options for new products – for example, selling kits where people can decorate their own cookies.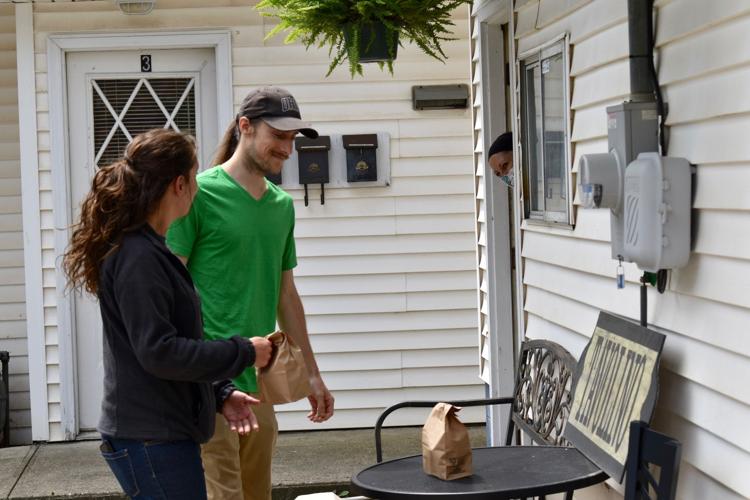 Tavolino's Johnson similarly said she's been selling a lot of large trays of ready-made food that feed a family of six or so, which can be frozen.
Kopelwitz, like Johnson, said she's been blown away by the kindness of many in the community. She said some local businesses and residents have sponsored packages of baked goods to be sent to hospitals and nursing homes, for example.
"I can't tell you the amount of times I've cried," she said. "I'm waiting on someone and they buy a $2 coffee and they give you a $40 tip. One woman gave us $100. That all goes to my employees. That's just the coolest thing to see."
Kopelwitz and Johnson both said they're not sure when they can reopen their inside services, even after Ohio Gov. Mike DeWine announces when restaurants might be able to reopen for inside services. Johnson said that she and members of her immediate family have high-risk health conditions, and with the coronavirus not going anywhere, her current model of a closed dining room while leaving food on a table outside for people will likely continue indefinitely.
While some of Athens County's food businesses do see a way forward, others have closed up for the interim time period, and it's not clear when they'll reopen. A call placed to Tammy's Country Kitchen in Nelsonville, for example, yielded a voicemail explaining that business will be closed "until all of this is over." Dynasty Restaurant on Richland Avenue in Athens is similarly closed, according to a sign on its door.
Other kinds of businesses are learning to adapt. Little Fish Brewing Company on Armitage Road in Athens is offering carryout beer and food from its in-house restaurant, as well as delivery, which is a change to its typical business model. Sean White, co-owner, said Monday that while business is way down, he has kept 20 or so staff employed using a PPP loan, and has used this time to work on improvements to the brewery's facilities.
"It'll be a strength for the business after we come out of this whole mess," he said.
White added that one positive is that his business is now selling "crowlers" – disposable, 32-oz cans of fresh-poured beer – both locally and statewide, which will please fans of Little Fish who aren't able to visit anymore. Jackie O's Brewery in Athens has also started selling similar crowlers in the statewide market.
BACK ON COURT Street, Tim Martin, owner of Redtail Design Company and Ohio is Home (an apparel and gift store on South Court Street), had to close that storefront after Ohio's stay-at-home order closing most non-grocery retail businesses.
Still, Martin said he's been trying to do as much business as possible online, reacting quickly to current events with unique products, such as a Joe Burrow-related "740" shirt and "Wine with DeWine" and "Snackin' with Dr. Acton" wine glasses. He said the response has been great to those products, selling over 1,200 wine glasses in a short period of time. That's a big number for Ohio is Home, Martin said, but the "maddening" thing is that sales total only equals about as much revenue as a single busy weekend of business during Athens' normal spring semester, during Mom's Weekend, for example. 
Martin said he's not sure when he'll be able to reopen his storefront, and does not know if he can open by the May 12 reopening date for Ohio's retail stores, as set forth by Gov. DeWine on Monday. He said he isn't sure how he'll be able to keep up with the guidelines set forth for businesses by DeWine, though that was before DeWine walked back the requirement for all customers and employees to wear masks.
Martin said he and other small business owners in Athens have bigger concerns, however. One is the fact that many businesses are locked into expensive, multi-year leases.
"A lot of landlords are kind of being lenient about paying what you can when you can," Martin said. "We are really going to have to renegotiate our leases (in the future), however. We're all going to be taking huge losses."
And the very big elephant in the room for many Athens businesses, especially those uptown, is whatever Ohio University decides with regard to Fall Semester. For many, that will spell the difference between survival and failure.