Athens to target shopping bags
Proposal would require retailers to charge a dime per plastic or paper bag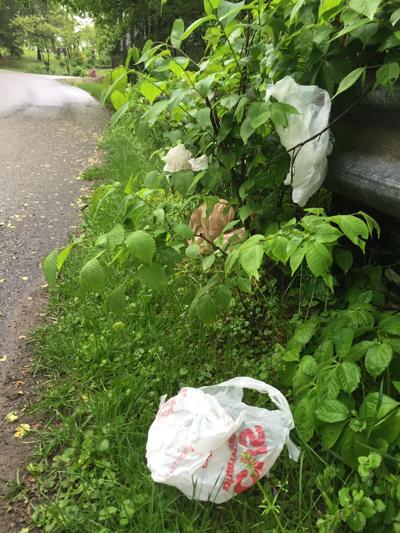 Would you be willing to pay 10 cents per plastic or paper carryout bag you use at most retail stores in Athens? Would this charge make it more likely you'd start using reusable bags?
Athens City Council is expected to hear the first reading of an ordinance next Monday that eventually will require most retail establishments in the city of Athens, with a few exceptions, to charge their customers a dime per plastic or paper bag. 
The intent, city officials say, is to discourage plastic waste from entering the environment, as well as paper bags, which have their own environmental issues, while encouraging the use of reusable bags at retail check-out lines in Athens.
The proposal by at-large Athens City Council member Jennifer Cochran comes as the New York City Council approved a similar ordinance charging shoppers 5 cents for each paper or plastic carryout bag they use. NYC Mayor Bill de Blasio has said he favors the ordinance, but has yet to sign it into law.
If approved by Athens City Council after three readings of the ordinance, Athens would become the first city in Ohio to enact legislation charging a fee for disposable (also called "single-use") carryout bags or banning their use altogether. The city of Columbus has studied implementing such a fine or tax in recent years, but opted last year to instead start a plastic-bag recycling program at some stores. 
It's a broader national conversation, with dozens of American cities in recent years moving to ban, tax or charge for the use of plastic or paper carryout bags. Washington, D.C., is among the largest to adopt such a law.
Many people who posted on The Athens NEWS Facebook slammed the idea when we posted a link to a New York Times article about the adopted law in that city, with some commenters saying they already reuse their plastic bags as trash-can liners or to pick up after pets.
According to a copy of the proposed ordinance, provided by City Council Clerk Debbie Walker, retail stores would be required to charge most customers 10 cents per plastic or paper carryout bag they wish to use. Dine-in or take-out restaurants, a category that includes fast-food restaurants, would not be subject to the fee. Customers participating in WIC (Women, Infants and Children program to subsidize healthy food purchases) or "other subsidized purchase programs for low-income residents" also would not be charged the fee for using the bags, according to the ordinance.
Correction: We originally described WIC as "food stamps." WIC is a different program than SNAP, which is Ohio's "food stamp" program. We regret the error.
The proposed ordinance also requires that stores make reusable bags available for purchase. 
The text of the proposed ordinance can be read here.
Cochran opened discussion during an Athens City Council committees meeting Monday with a presentation about the topic of levying a fine for use of the bags. She said nationally, the recycling rate for plastic bags is a "very small" 5 percent, with the "typical plastic bag" that people receive at the grocery store lasting about 12 minutes before they are thrown away. 
Elissa Yoder, conservation program coordinator with the Sierra Club's Clean Water Campaign for Central Ohio, said during the meeting that the problem with plastic bags is they don't "biodegrade" – they "photodegrade." Ultraviolet rays break down the plastic into pieces. 
Then, she explained, "these pieces will enter our waterways, they will enter our sewers, and eventually they will get down into the ocean.
"Here in Ohio," she continued, "it takes about six years for all of our trash to go downstream into the North Pacific, what they call the garbage patch." (She didn't explain how materials discarded east of the Continental Divide would end up in the North Pacific.)
That garbage patch, at least the nearest one in the Pacific Ocean, is estimated to be about twice the size of Texas, with Yoder and Cochran citing profound effects on wildlife and the natural environment. Similarly, 12 million barrels of oil per year are used to manufacture plastic bags, Yoder said. 
"Obviously, that creates a whole other issue," Yoder said.
Retail stores would keep the 10 cent per bag fee they collect, though the law would set restrictions on what they could spend the proceeds on, and the store would be forced to keep "accurate records" documenting the purchase and sale of paper and plastic bags, as well as reusable bags.
The money could only be used, according to the ordinance, to pay for costs associated with complying with the ordinance, the actual costs of providing bags (reusable or otherwise), costs associated with a store's "educational materials or educational campaign encouraging the use of reusable" bags, and the costs of "training staff" to implement the fee.
Stores found in violation of the law would be warned by code enforcement officers under the ordinance, followed by a $100 penalty fee for continued non-compliance. 
Most members of Athens City Council members seemed at least initially to be interested in moving forward with the fines. Athens Mayor Steve Patterson said it's an "interesting" piece of legislation, but said it would be important to make sure stores keep accurate records of the fees they assess.
"Store" is defined thusly in the ordinance: "… a retail establishment that sells perishable or non-perishable goods, including, but not limited to, clothing, food and personal items, directly to the customer"
Some opponents of fees tacked onto plastic bag use, or outright banning of the use of them, argue that the fees are a "regressive tax," or argue that some reusable bags are worse for the environment than "single-use" bags.
LORA MILLER, DIRECTOR of governmental affairs and public relations for the Ohio Council of Retail Merchants, said her organization prefers public-private partnerships to encourage recycling of plastic bags at grocery stores, as is currently being done in Columbus, over any bans or fees for use of the bags. She said Columbus' city staff researched the effect of such bans or fees in other cities, and said there "really is no evidence" in other states where such bans have been imposed that it's actually done anything to stop plastic bags from entering the environment.
Similarly, Miller warned that some may argue that the Ohio Constitution prohibits imposing any tax on packaging or containers used "in association with food for consumption off-premises," she said, which could mean items carried in bags from grocery stores. She also suggested that regulations regarding which stores can and can't apply the fee for carry out bag-use could mean "unequal application of taxation."
"We question, what are you really trying to accomplish here, in imposing this tax?" she said, referring to the general idea of a fee on bag usage. "…You'd have to develop a system for collecting the money, you'd have to be subject to auditing of that money… it's just adding a lot of cost to the business itself."
Miler also provided copy of a study done in 2015 by a research organization which polled 805 Ohio voters on their opinion of a statewide tax of 5 cents per plastic bag used by people "when they buy groceries." About 58 percent of those surveyed said they opposed such a tax; younger residents (18 to 29) tended to support such a measure more than older residents, however.
IN THE TEXT of the proposed Athens ordinance, plastic bags are locally called a "public nuisance," and are said to "create a burden" on the city of Athens' waste disposal resources and storm sewer system, "clogging storm sewers" and causing "damage to equipment."
Single-use carryout bags are defined in the ordinance as bags made of plastic, paper or other material that are provided by a retail establishment to a customer at the point of sale. Following are materials or bags that would be exempted from the 10-cent fee:
• Carryout bags from dine-in or take-out restaurants, or fast-food restaurants.
• Non-profit "charitable re-users," according to the ordinance.
• Bags without handles provided to carry prepared food, produce, bulk food or from a department within a retail establishment to the point of sale
• Paper bags provided for containment of carryout beverages or liquor.
• Paper bags for medication provided by pharmacies.
• Bags provided to "segregate food or merchandise or other goods" that could "damage or contaminate" other food or merchandise when placed together in a reusable bag or recyclable paper bag. Typically, this refers to meat products.
According to the ordinance, stores with "gross annual sales" of $2 million or more and which sell grocery and other items will be required to comply with the new law by Nov. 1, 2016. Most other stores would need to be in compliance by May 1, 2017.
Athens' Kroger store already has a recycling program for plastic bags, with bins available in the front vestibule of the store. Jennifer Jarrell, Kroger's Central Ohio Division' spokesperson, said that last year all 123 of the Central Ohio Kroger stores recycled more than "50 percent of the plastic bags that were used" in the store.
Athens' Aldi store already charges a small fee for customers wishing to use plastic or paper carry-out bags.
"We encourage our shoppers to bring their own reusable grocery bags, or purchase a reusable eco-friendly tote bag or insulated freezer bag at the checkout to use for all of their trips to ALDI," an Aldi spokesperson said Tuesday.