With ReUse Industries in Athens announcing its closing last week, some residual activities continued at the small complex of storefronts on the far West Side over the weekend. Meanwhile, community leaders reportedly are mulling ideas for filling the vacuum left by the closing of the nonprofit's MakerSpace shop.
And this just in at The NEWS' print deadline on Wednesday… A public meeting for that discussion is planned for the near future.
Meanwhile, seemingly normal activities Saturday at Makerspace – including a women's welding class in the middle shop area – did little to betray the turmoil that's been roiling ReUse and its different offshoots for the past 10 days.
The same applied to the ReUse Thrift Shop in a large space next door to MakerSpace in the small strip of storefronts at 751 W. Union St. – unless you were aware that this essentially was a going-out-of-business sale. Racks of very cheap clothing for all ages, shelves of used books, and tables of glassware, among many other second-hand items, were being sold for almost nothing. That sales runs 10 a.m. to 6 p.m. through this Saturday.
ReUse Industries, one of Athens County's foremost practitioners and proponents of a zero-waste economy, announced Feb. 5 that it was closing all of its operations, due to an inability to "meet its financial obligations." That included the Athens MakerSpace, a large space that offered wood, fiber/fabric and metal shops, through classes and access to tools, offering a wide variety of industrial-grade equipment for community use.
The announcement came in an emailed statement from board member Brian Vadakin, serving as a spokesperson for the nonprofit's board. "Innovation comes with high risk, and in recent months ReUse has encountered serious, concurrent financial and operational challenges," Vadakin wrote. "The professionals serving on ReUse's volunteer board, after intensive deliberations over the last few months, have decided that the current business model is not sustainable and will not allow ReUse to meet its financial obligations.
However, in his statement, the board member left the door open for someone in the future to pick up the ball and resurrect what ReUse was doing.
"ReUse hopes to engage local citizens and stakeholders in a public discussion in the near future of how the goals of ReUse might be re-imagined in a different form. Details about this discussion will be forthcoming…," Vadakin wrote.
That idea took a more tangible form in a follow-up email from Vadakin on Wednesday morning. "In terms of next steps, we are currently finalizing the date/time for an open community meeting to discuss the future of ReUse," he wrote. "We hope this will be a productive way for the community to brainstorm different models to continue the impact of ReUse / the Athens Makerspace, albeit in a new form."
He said he hopes to have date/time and location details for that meeting very soon, and The NEWS will post that information as soon as we get them.
Vadakin did make one request, however. He said he hopes nobody confuses ReUse's closing with anything involving Habitat for Humanity's ReStore at 309 W. Union St. That thrift store, according to its website, "accepts donations of building materials, furniture, home goods/accessories and much more to sell at discounted prices. The income generated from the sales go toward future Habitat home builds."
Though the initial announcement on Feb. 5 suggested that ReUse Industries' closing would be immediate for everything but the Thrift Shop, the nonprofit posted a notice on its and MakerSpace's Facebook pages Tuesday afternoon informing people that Makerspace "will be still hosting all classes that have people signed up for them. If you are currently signed up for a class, please know that your participation will greatly help us in this difficult time!"
In the follow-up email on Wednesday, Vadakin clarified that while the aforementioned classes will finish up, "the space is not currently open to members for use of the equipment. So that element of the operation has closed."
AMONG COMMUNITY LEADERS with an interest in salvaging some of what ReUse Industries offered is Leslie Schaller, a former ReUse board member and customer of the nonprofit.
"A number of former board members and community volunteers have tried to work with the (ReUse) board and staff to salvage some of the nonprofit," she said. "But we await feedback or direction from the board when they are ready. In this regard, I have primarily been wearing my six years of experience as a former Board member and 'grant writer-helper' in the '90s and aughts."
Schaller made it clear that she wasn't commenting in her capacity as director of programs for ACENet in Athens.
Athens County Commissioner Chris Chmiel also said he, too, supports efforts to put something together that builds on ReUse's positive contributions to the community.
"From what I hear," Chmiel said, "makerspaces around the country are failing. It may have been sort of a fad for grant funding. What I really think ReUse needs is a viable business model that can sustain the place. I think this could include providing services like job training, etc."
He recalled a very recent discussion with Patty Mitchell of Passion Works Studio. "A couple of months ago I helped connect Passion Works to ReUse and Serenity Grove (women's recovery center) on a deal to use ReUse as a space for ladies from Serenity Grove to prep materials that Passion Works uses for making products," Chmiel said. "The ladies were getting paid and such. This was great for Passion Works because they would like to expand sales and needed help cranking out materials."
Projects of that sort might be part of the solution to what comes after ReUse, according to Chmiel.
(Both Schaller and Chmiel's comments came before Vadakin's announcement Wednesday morning about a planned public meeting about the future of MakerSpace and ReUse.)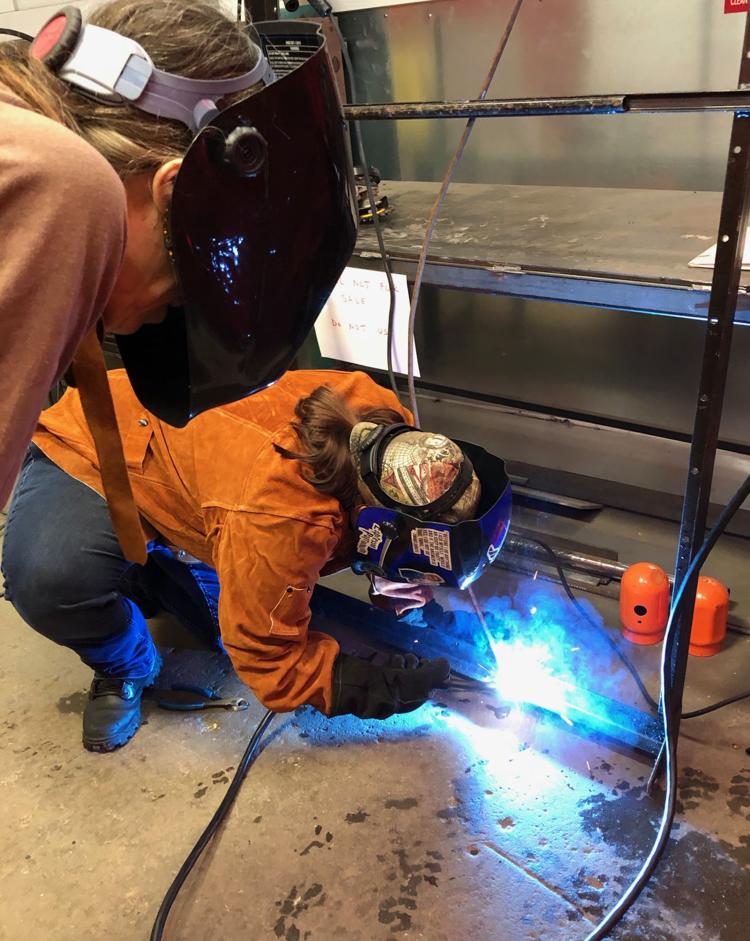 SATURDAY IN A KIND of wistful swan song to ReUse Industries, a small group of local women participated in a hands-on welding class in the middle shop at MakerSpace, turning old scrap metal into garden gates. Liz King taught this welding class, likely among the last to be held at the MakerSpace.
One of the welding students, Wenda Sheard, explained how the class came together. "The women who live on our road have tea together about once a month," she said. "At a recent tea, some of us decided to form the 'Dutch Creek Road Ladies Welding Society,' for the purpose of learning how to weld and making ourselves garden gates, mostly out of recycled metal. We found an amazing young woman instructor, Liz King, who has been teaching at the Athens Makerspace. We arranged for private classes with her at that location."
King said Monday that three more welding classes are planned, two this month and one in late March. As mentioned earlier, MakerSpace will only remain open until classes with people already registered have run their course.
King talked about her work with MakerSpace. "I have been teaching welding at the AMS (MakerSpace) for a year," she said. "My students are primarily women, but men are equally welcome. (When I first started at the AMS, we were mainly focused on female participants.) We began by hosting 'Ladies Intro to Welding' because women seem to feel more comfortable in a ladies-only class."
King said she has a two-year degree in welding, and is currently employed as an aerospace machinist apprentice. "From working in male-dominated fields, I understand that it can be intimidating to try out a new (stereotypically manly endeavor). I enjoy meeting new people and helping them with their projects. I have greatly enjoyed my time teaching at the Athens Makerspace."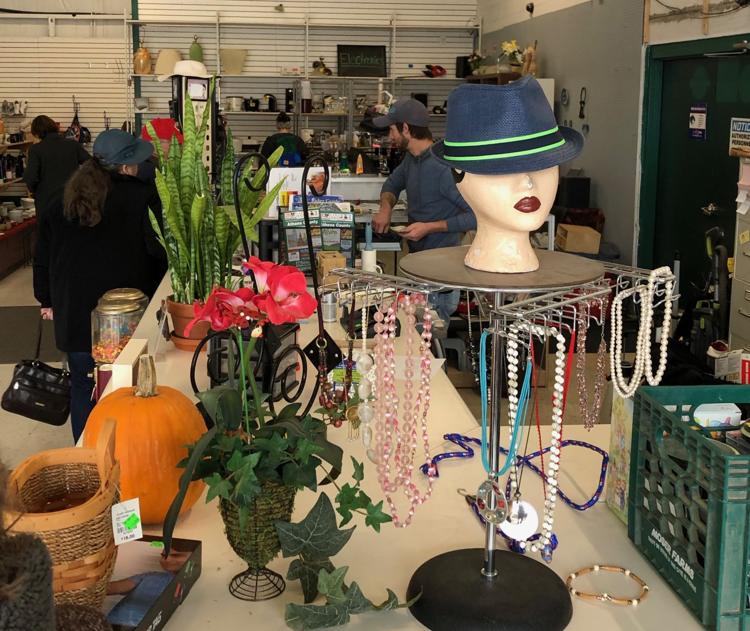 DEALS ARE DEFINITELY to be had for the rest of this week at the new, expanded ReUse Industries Thrift Store, now located in a big space next to MakerSpace. The bigger space provides space for a lot of the refurbished furniture that the previous space at the other end of the building didn't have room for, according to the aforementioned ReUse Industries/MakerSpace Facebook post. During this close-out sale, all clothing is being sold on a "buy one get one free basis," plus haggling is likely to produce good deals for customers.
Finally, according to the ReUse post, the section of the consolidated thrift store and ReUse on Union that's selling fabric, yarn and craft supplies will be open 10 a.m. to 6 p.m. this Friday and Saturday, with all fabric is 50 percent off. "We'll also be making deals on the rest of the ReUse on Union inventory," the post said.