Athens Democrats won a clear victory Tuesday in the General Election, with Mayor Steve Patterson, a Democrat, winning re-election by a wide margin over Democratic Socialist candidate Damon Krane, and three Democrats beating several independent candidates for at-large City Council seats.
Krane and two other self-identified socialist candidates fared poorly in Athens and Nelsonville city elections on Tuesday.
Meanwhile, all the countywide levies passed, except for a 0.25-percent, five-year Athens County sales tax increase proposed to bolster the Athens County Sheriff's Office, Athens County 911 and Athens County's general fund. The city of Nelsonville also voted to approve an ordinance de-penalizing marijuana crimes within city limits, joining Athens, which has a similar voter-approved ordinance on the books.
Voter turnout was low in this off-year election, with only 10,553 ballots cast out of 40,919 registered voters (a 25.79 percent turnout) in Athens County. That's not unusual for the off-year election cycle in Athens County. The last local election, in 2017, saw a 26 percent turnout. In 2015, the turnout was 36.82 percent of registered voters, and in 2013, it was a paltry 17.6 percent. The high turnout in 2015 likely was related to three statewide issues that were on that ballot, including one for redistricting reform (which won) and another for marijuana legalization (which lost).
In the Athens City Council at-large race, Incumbent Democrats Peter Kotses and Sarah Grace won re-election, while first-time candidate Beth Clodfelter pulled the largest percentage of the vote. They defeated incumbent Pat McGee (an independent), as well as challengers Ellie Hamrick, a self-identified socialist independent candidate, and Chris Monday, a left-leaning independent.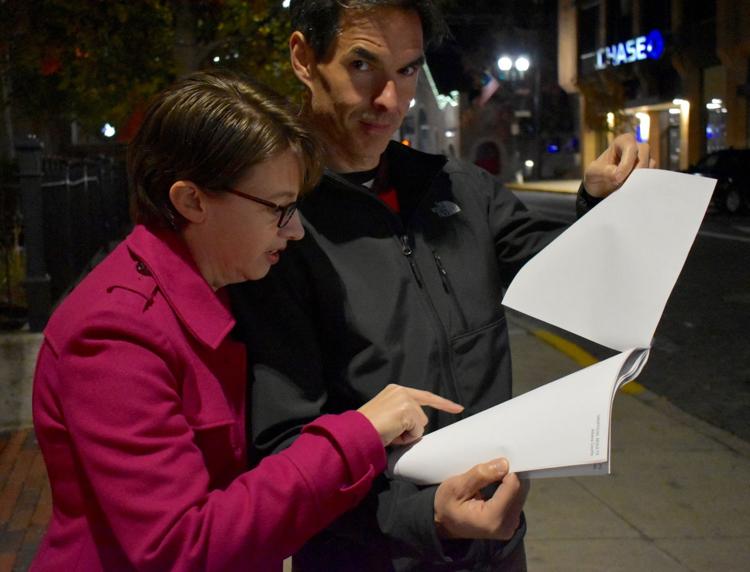 Clodfelter thanked all of her supporters in a brief comment Tuesday evening.
"I'm just going to try to be a good, diligent City Council member who listens to the people and tries to come up with good ideas for our city," she said.
In other news, Nelsonville City Council member Taylor Sappington pulled off a narrow victory over incumbent Garry Dickerson in the race for the Nelsonville city auditor position. Meanwhile, Nelsonville residents voted for incumbent Greg Smith and former council member Cory Taylor in the race for two unexpired Nelsonville City Council seats, with Smith narrowly unseating council member Dottie Fromal. In a separate race for three at-large Nelsonville City Council seats, incumbents Linda Watkins and Anthony Dunfee won re-election, along with non-incumbent Wanda Johnson.
Athens Mayor Steve Patterson said after the unofficial results were announced Tuesday evening that the high percentage of voters who supported him – 75.62 percent of the vote – suggests that city residents are pleased with the direction of the city over the last four years. 
"We really have been and will continue to work on affordable housing because it's so needed, and the other big thing is we've got to diversify our local economy, we can't be reliant on one or two major employers," Patterson said. "We've really got to push the envelope and be more attractive to other businesses, but also attractive from a tourism standpoint, where people are going to come and visit our region – which is gorgeous – to spend the night, to go out to restaurants, to go to our brewpubs." 
Mayoral challenger Damon Krane, who ran an aggressive race as an independent, took a different view. He said in a statement Tuesday evening that Patterson won such a large percentage of the vote, along with his "allies," because "the vast majority of Athenians – and renters, in particular – didn't vote."
"The problem is that Athens politicians have ignored workers and students for so long that the very idea of local democracy is totally foreign to most folks," Krane wrote. "So Ellie (Hamrick), Chris (Monday) and I really were starting from absolute scratch. No one had ever run campaigns like ours in Athens – left-wing populist campaigns that sought to expand local democracy and win a just city for workers and students. And it's hard to get from zero to victory on election night in just one election cycle. 
"But I'm proud of what the three of us did accomplish," Krane continued. "We changed what an Athens city election looks like. Simply by running we forced City Council to pass more pro-tenant legislation than it's passed in decades. We unmasked the economically right-wing rule at the heart of fake liberal Athens."
Krane added that he believes he and the other independent candidates "planted the seeds" for "left-wing populist candidates" to have more success in the future.
During the election campaign, during which Krane kept up similarly strongly worded criticism of the mayor on social media, Patterson mainly refrained from publicly responding.
The typical precinct-by-precinct breakdown of votes was not available on the Athens County Board of Elections website Wednesday morning. The NEWS will follow up on that breakdown when it's available.
Below is a selection of the unofficial results from Tuesday's election. The Athens County Board of Election still needs to verify these results.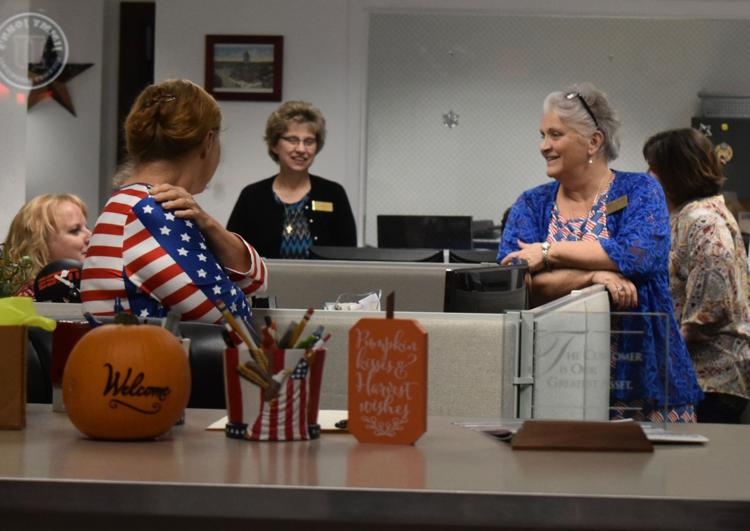 Athens city races – total unofficial results
(*Asterisks* denote winners)
*Steve Patterson (D): 2,075 (75.62 percent)
Damon Krane (I): 571 (20.81 percent)
Athens City Council at-large race
*Beth Clodfelter (D): 1,940 (23.57 percent)
*Sarah Grace (D): 1,458 (17.71 percent)
*Peter Kotses (D): 1,456 (17.69 percent)
Patrick McGee (I): 1,113 (13.52 percent)
Ellie Hamrick (I): 593 (7.2 percent)
Chris Monday (I): 576 (7 percent) 
Nelsonville city - local unofficial results 
*Taylor Sappington: 389 (50.65 percent)
Garry Dickerson: 358 (46.61 percent)
At-large Nelsonville City Council (only two seats open, unexpired term to end 12/05/21)
*Cory Taylor: 356 (23.18 percent)
*Greg Smith: 310 (20.18 percent)
Dottie Fromal: 297 (19.34 percent)
Andrea Reany: 211 (13.74 percent)
At-large Nelsonville City Council (only three seats open, seat beginning December 2019)
*Linda Watkins: 453 (19.66 percent)
*Wanda Johnson: 391 (16.97 percent)
*Anthony Dunfee: 374 (16.23 percent)
Shadrick Paris: 269 (11.68 percent)
McCray Powell: 154 (6.68 percent)
Local issues and other noteworthy races
Athens County new 0.25 percent sales-tax hike
Yes: 4,869 (46.14 percent)
*No: 5,243 (49.68 percent)
Athens County Public Library replacement levy
*Yes: 6,839 (64.81 percent)
No: 3,526 (33.41 percent)
Athens County EMS renewal levy
*Yes: 7,993 (75.74 percent)
No: 2,356 (22.33 percent)
Athens City-County Health Department tax levy replacement
*Yes: 7,124 (67.51 percent)
No: 3,121 (29.57 percent)
Athens County senior levy renewal
*Yes: 7,869 (74.57 percent)
No: 2,387 (22.62 percent)
Nelsonville Cannabis de-penalization ordinance
*Yes: 430 (55.99 percent)
Athens County Children Services levy replacement and increase
*Yes: 6,762 (64.08 percent)
No: 3,582 (33.94 percent)
*Yes: 6,019 (57.04 percent)
No: 4,210 (39.89 percent)
*Tim Kirkendall: 152 (54.48 percent)
Larry T. Payne: 117 (41.94 percent) 
*Samantha Sikorski: 105 (47.30 percent)
Thomas A. Hooper: 58 (26.13 percent)
Nathan Simons: 47 (21.17 percent)
Alexander Local School District Board of Education
*Lucy deLaval Juedes: 1,181 (25.06 percent)
*Blake Regan: 1,040 (22.07 percent)
John Hutchison: 839 (17.81 percent)
Katheleen S. Dougan: 605 (12.84 percent)
Ralph Harvey, Sr.: 277 (5.88 percent)