As the 2020 Democratic presidential primary heats up in Ohio, Mike Bloomberg is the first Democrat candidate to open an office in Athens County, with an opening ceremony held this past Saturday.
A small group of protesters stood outside the event Saturday, holding signs that challenged Bloomberg's record on criminal justice and race, among other criticisms of the billionaire former mayor of New York City.
Meanwhile, several notable Athens County Democrats and others spoke during the event, including Chillicothe Mayor Luke Feeney, who endorsed Bloomberg, and Athens County Prosecutor Keller Blackburn, who urged people to vote for Bloomberg and spoke favorably about his record as mayor on criminal justice.
Kailee Missler, a senior Ohio University journalism major, was one of the protesters standing outside. She and the other protesters – all self-identified progressives who for the most part support Sen. Bernie Sanders' presidential bid – said they would not vote for Bloomberg if he were the Democratic candidate against Republican President Donald Trump. Missler and others said they voted for Hillary Clinton in the 2016 general election.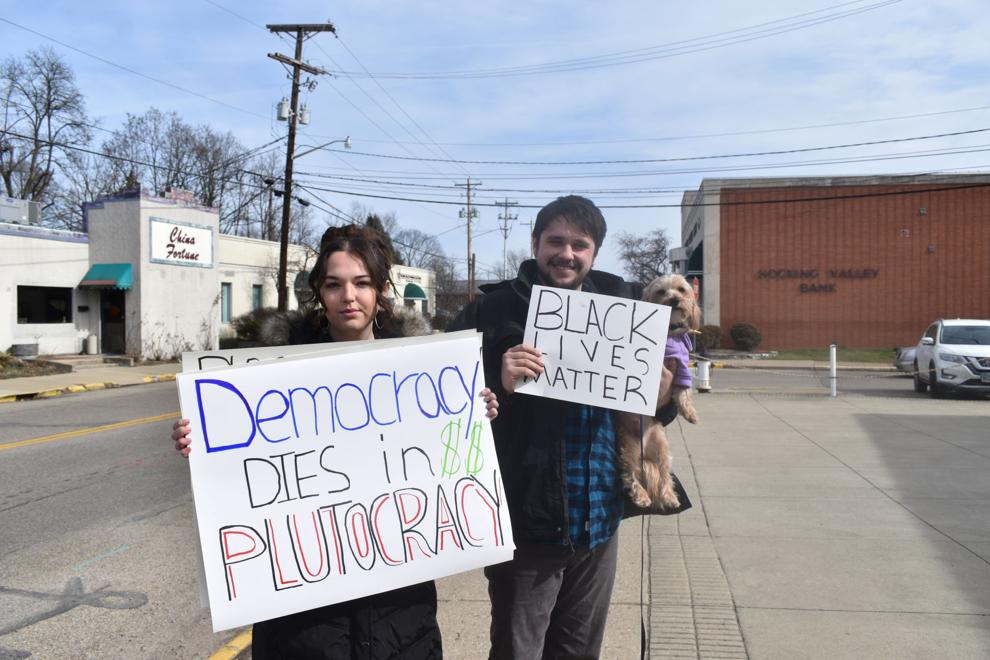 Missler said she didn't see any functional difference between Trump and Bloomberg, noting Bloomberg's record on stop-and-frisk policing, a policy that Bloomberg has publicly apologized for but which she said was part of "systematic oppression" of marginalized communities in NYC under Bloomberg's tenure.
"He's essentially trying to buy our vote," Missler charged. "For someone who was a Republican up until two years ago, and continues to donate to Republican candidates, he's coming and trying to buy our party, and I can't stand idly by and let that happen."
In his speech during the opening event, county Prosecutor Blackburn argued that Bloomberg has been "progressive in the way as mayor that he dealt with the criminal justice problem" in the city.
"He had a re-entry program before anybody else had re-entry programs," Blackburn said. "While mayor, he reduced incarceration by 38 percent in New York (City) and reduced the crime rate. He reformed the bail system so people weren't held on excessive bail… and he started a prevention program that was targeted toward at-risk youth."
Blackburn and other Democratic speakers during the Bloomberg office opening event argued that Bloomberg is the most likely candidate to beat Trump.
County Commissioner Eliason, treasurer of the Athens County Democratic Party (who said he was speaking since Chair John Haseley was out of town), said in his speech that the Bloomberg campaign has pledged to keep the Athens office open (one of 12 regional Bloomberg offices in Ohio) past the Democratic primary. He didn't directly endorse Bloomberg, however.
"We need a candidate that's going to take out Donald Trump, and we have to build a coalition to move together," Eliason said.
Mayor Feeney, who spoke with his young daughter in his arms, and who himself is an OU and Athens High School alum, said that after meeting Bloomberg, he believes he's the one to beat Trump in the general election, noting that Bloomberg cares about solving the issues affecting southern Ohio, including addressing the opioid crisis. Feeney touted Bloomberg's record as an executive who ran the "biggest city in America and ran it efficiently."
Athens-born internationally renowned architect/artist/designer Maya Lin – who designed the Vietnam War Memorial Wall in Washington D.C. – spoke at length during the campaign opening event about Bloomberg's positive record as mayor on combating climate change, improving public transportation and supporting the arts. A New York City resident, Lin is also a member of the board of the philanthropic Bloomberg Foundation.
She said Bloomberg helped the city heal after the Sept. 11, 2001 terrorist attacks on the World Trade Center and shepherded it through the financial crisis of the late 2000s.
"It was unprecedented what this man did," she said, noting record numbers of job growth and tourist visits to NYC during his tenure.
Meredith Tucker, communication director for the Bloomberg campaign in Ohio, noted during the opening event that six full-time staff will work out of the Athens regional office during the campaign.