Ohio University faculty members turned out in force at a Faculty Senate meeting Monday evening as discussions over the university's budget problems continue to roil the university.
Board of Trustees Chair David Scholl and Vice Chair Janelle Coleman attended the meeting at OU's Walter Hall for about 30 minutes. They fielded pointed questions from faculty members, with many criticizing cuts (some already implemented, some just proposed) for academic departments. Attendees also raised concerns about proposed significant increases to faculty teaching workloads.
A lot of uncertainty has gripped campus while the university's various academic and administrative planning units have been working to develop budget models for the next fiscal year. Those units submitted potential ideas just last week for how to cut their budgets and potentially increase revenue. The university administration is seeking these changes after several years of enrollment downturns (despite the university posting record enrollment growth in the years prior).
Journalism professor Bill Reader kicked things off by telling the Trustees that a true "fearlessly first" approach to the budget ("fearlessly first" is the phrase the OU administration has used in its budget restructuring discussions) would involve acknowledging that there is "too much fat at the top," referring to the high salaries for administrators as well as their number.
"An honest accounting shows that the biggest drain on this university's finances is from the top, not the bottom," Reader said. "The academic units, running lean for more than a decade now, bring in the tuition revenue. With honest accounting, most faculty members more than pay for themselves. How many vice provosts and vice presidents can say the same?"
Gary Holcomb, a professor of African-American literature, appealed to Trustees Coleman and Scholl as OU alumni to consider the damage that significant cuts to departments like his would have on OU's reputation, especially as a public college that previously has boasted about its ability to offer small class sizes.
Referring to his department, he added, "We'd be either cut completely or at best drastically scaled-down and farmed out to serve large units."
After taking several other questions, Scholl and Coleman offered some responses. They both assured faculty members that they'd take their questions and feedback and share them with OU President Duane Nellis and the rest of the Board of Trustees.
As far as administrator salaries go, Scholl said that several years ago the federal government required the university to implement a market-based salary system. Otherwise it would violate the law, he said, which was one reason why administrative salaries are at their current levels. He said that's not the case for faculty.
That change came after a complaint was filed with the U.S. Department of Education's Office of Civil Rights Compliance alleging that OU discriminated against female classified staff and administrators in determining job grades and salaries, The NEWS previously reported. This led to the university voluntarily conducting a four-year compensation analysis, which then led to the aforementioned market-based framework.
In total, that project identified 270 employees who were being compensated "below the minimum of their newly assigned pay grade." Those employees' salaries were increased and brought to the "minimum" of their new pay grades as of 2014. However, through the university's investigation, according to a release on Compass, OU's former ews website, "The university performed statistical comparisons and determined there was no evidence of discrimination in regard to pay."
Upon being questioned about some university administrators citing the "demographic cliff" argument that the number of high-school students attending college will decrease in the near future, Scholl confirmed that while that shift may not be here yet, it's "fast approaching," with a roughly 18-20 percent decrease in that population over the next eight or so years.
While it's still in a "strong" financial position, he said, the university is predicting an "enrollment shortfall" between now and 2022 that will mean a deficit of $30 million or more.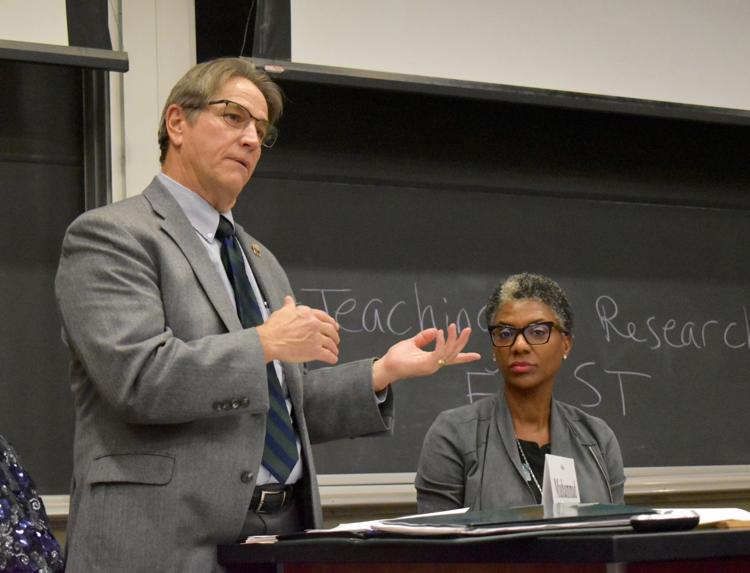 To address these problems, OU must undertake a dramatic "reimagining" of its entire academic enterprise, Scholl said, which will mean tough conversations about the budget (already ongoing), but also a significant investment in some areas of the university; specifically, he cited $65 million in spending that the Trustees approved earlier this year. 
ROBIN OLIVER, VICE PRESIDENT for Communications and Marketing, said in an interview Tuesday that the Board of Trustees in the spring approved $65 million in spending from the university's reserves to "bridge the gap" to fund OU's "operational needs" while also making "strategic investments" in line with the university's strategic framework. The goal of that framework – which has a website – is to "reimagine the academic enterprise" of OU.
Oliver said the $65 million will be invested in a number of areas, including the university conducting a new branding and marketing campaign. OU is in the final steps of picking a private firm to conduct that campaign, she explained, noting that the three finalists will be announced soon, with a final decision coming in the new year.
During Monday's meeting, Scholl and Coleman both acknowledged faculty who say that they don't feel their input is being heard in the discussion surrounding budget reductions. "Shared governance" is important, the two Trustees said.
Professor Loran Lybarger, president of the OU chapter of the American Association of University Professors (AAUP), said that faculty members need to "re-imagine" what taking back their power would look like, stating that faculty are "demoralized" and scared of losing their jobs.
OU does not have true shared governance now, he charged. This means the administration can make "grievous mistakes," Lybarger said, such as its past implementation of the Responsibility Centered Management (RCM) budget model, which faculty largely considered a failure.
"What are we doing now? We're dismantling it because we've discovered that all RCM did is grow our administration," he said."
Lybarger added that OU AAUP is still awaiting a response from the university administration regarding a research paper the chapter published last month. In a (separate) response to President Nellis' message to campus last month, the AAUP disputed Nellis' contention that "misinformation" has been spread on the budget issues with the intent to "disrupt" the university.
Lybarger's comments again indirectly suggested the possibility of OU's faculty unionizing, though no formal effort has been announced to date.
Trustees Vice Chair Coleman asked faculty to keep in mind that she and the rest of the Trustees care deeply about the university, and asked them to remember that they and OU administration are acting with "good intent."
IN TERMS OF CUTS THAT already have affected OU's academic departments, it's not clear what has happened in recent years.
The university administration set a target of roughly $19.3 million in budget reductions last spring that it tasked OU's various Athens campus academic colleges to make over the next four years. The largest portion of that – about $8 million – would come from the College of Arts and Sciences.
The OU AAUP chapter raised the alarm in October about how those cuts and other proposals could drastically impact the quality of education at the university. The chapter cited potential layoffs of as many as 40 or more "Group II" instruction-heavy faculty members (who are non-tenure track), though The NEWS hasn't been able to confirm that number.
In the budget planning documents shared last week, the College of Arts and Sciences noted that the College did not renew the contracts of 15 faculty in summer 2019. Meanwhile, the College of Business in its document reported that it had reduced its staff by five professors so far this fiscal year.
OU's administrative offices have made a number of staff and other budget reductions over the last two years (you can read more background with this article online).