An Ohio University freshman who was displeased with campus restrooms decided to take matters into his own hands.
Connor Sweeney, a freshman studying mechanical engineering, created a petition asking the university to stock campus restrooms with two-ply toilet paper. He had collected more than 500 signatures as of Tuesday afternoon.
The movement began on the second floor of Ryors Hall on West Green, where Sweeney is a resident.
"It's kind of out of the blue," Sweeney said. "Originally, it was only for our floor. We decided it would be funny to bring it to our floor manager. And then it increased to our whole building, and then it was our (residential) green, and now it's the whole campus. It was like a snowball."
"University officials are aware of the petition," OU spokesperson Carly Leatherwood wrote in an email Wednesday afternoon. "and we plan to reach out to the student who started it to have an open dialogue."
Leatherwood said the university needs to see what making the change involves. "We plan to reach out to our suppliers for a comparative estimate relative to volume and pricing, but we won't have that data until sometime next week," she said. "As recently as 2017, we piloted use of two-ply in high-volume areas within Alden Library and Copeland, but the results indicated at that time it was not cost effective to implement."
Sweeney, 18, said it's his first time organizing a petition. "It's a lot easier to say no to one person than a bunch of students working together," he said.
Sweeney has been meeting with students across campus. He learned that all dorm restrooms are set up in different ways, he said. 
"Some floors don't provide any toilet paper at all," Sweeney said. "(Students) have to supply their own, or they're out of luck. It's not one part of campus – on South Green, random floors won't provide it. That kind of sucks. I would never expect to show up on Friday on move-in day and be told, 'Better go back to Walmart and get some toilet paper for yourself.'"
Sweeney said responses to his petition have been largely positive and supportive.
"In my opinion, it's a good thing. It's hard to be against it," he said. "I've had people say no because they are busy or because they don't want to listen to a random guy spouting off about toilet paper."
He said some upperclassmen have advised him to stop complaining.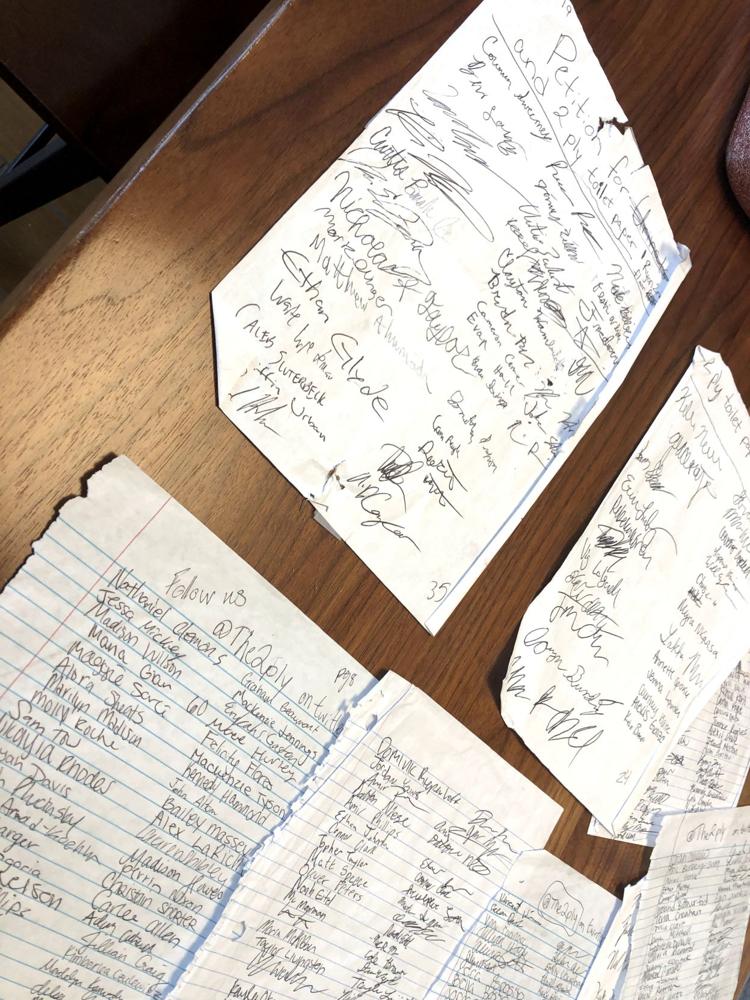 Sweeney said he and his friends are planning to register as a student organization through the Baker Involvement Center. 
Their organization's official mission statement includes requesting two-ply toilet paper across campus and better management of campus restrooms as a whole, he said.
"A girl shouldn't have to walk into a restroom and it be one stall and four urinals, or the other way around," Sweeney said. "For the amount of people that probably work in administration, it seems like a pretty big mix-up for that to happen."
He said the initiative has helped him make new friends on his floor, in his building, and across the entire campus.
"I've made some great friends just talking about toilet paper," Sweeney said.
Sweeney, who is on Hall Council in Ryors Hall, said he hopes to run for Student Senate in the future. He joked that students may remember who he is when his name is on the ballot… whether it's single-ply or two-ply.