More than 200 students, faculty and others attended a protest on Ohio University's College Green Monday afternoon to listen to "fun facts" about OU's not-so-fun budget troubles, with protesters placing the blame squarely at the feet of university administration.
OU Fun Facts, the student group that organized the protest, was set to meet with OU administration Wednesday (after The NEWS' print deadline) to express their concerns about how the university has handled its current budget struggles, calling on cuts to OU's administrative staff and athletics program before faculty members are terminated as a solution to those problems.
Meanwhile, OU President Duane Nellis sent an email to the campus on Tuesday prior to the rally, expressing concern that "misinformation" has been spread about the university's budget challenges, "with the specific intent of causing disruption and without regard to what should be our shared priority – educating students and inspiring their success."
Protest organizers with OU Fun Facts took that as a direct challenge to their platform. During the protest, organizer Alex Armstrong called the president's message a "smear campaign." He noted that the facts included in the OU Fun Facts fliers that have been circulating on campus all come from the OU chapter of the American Association of University Professors (AAUP), which last week released a research paper on OU's budget problems.
"The university is mismanaging our money," organizer Isaac Stern charged. "There are just so many things are out of proportion, with 1,100 faculty and 1,200 administrators."
Nellis in his letter said it's not accurate to call what OU is experiencing a "financial crisis."
"First and foremost, the claim that Ohio University is in a 'financial crisis' does not reflect our reality," Nellis wrote. "Ohio University has a strong financial position and significant monetary reserves, which provide us with the flexibility to invest strategically in our core academic mission and innovation…
"We are, however, in a critical moment that requires action," he continued. "Over the last three years, Ohio University has seen a steady decline in overall enrollment. One driver of the decrease is smaller incoming freshman classes. In addition, graduating record-sized senior classes, increasing our four-year and three-year graduation rates, and growing participation in College Credit Plus among Ohio high-schoolers means many students are leaving the university faster."
Nellis also conceded in the letter that OU's prior budget model, dubbed responsibility centered management (RCM), implemented under former OU President Roderick McDavis "resulted in assumed enrollment growth in some colleges' programs that, unfortunately, never materialized."
OU alum Jacob Chaffin, an organizer with the union that represents roughly 8,000 faculty and instructors at Rutgers University in New Jersey, said during the protest that he along with many of students and faculty cried foul about RCM in the past, but the administration never listened.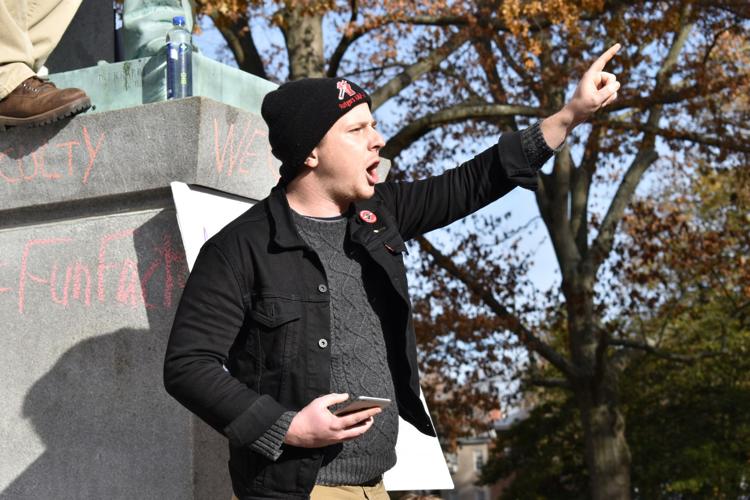 "We told them it (RCM) was going to strangle our budget, that it was going to make programs decline, that it was going to ruin this university. It's the same thing that's happened across this country," Chaffin said, including at Rutgers, which he said faculty fought hard to get rid of.
The university administration set a target of roughly $19.3 million in budget reductions last spring that it asked OU's various Athens campus academic colleges to make over the next four years. The largest portion of that – about $8 million – would come from the College of Arts and Sciences.
OU's AAUP chapter raised the alarm last month, predicting that those cuts and other proposals could drastically impact the quality of education at the university. The chapter at the time cited potential layoffs of as many as 40 or more "Group II" instruction-heavy faculty members (who are non-tenure track).
Nellis addressed that prospect in his letter, stating that sweeping cuts of those faculty would "not be strategic and would be detrimental to the student experience. 
"We will not pursue a sweeping, one-size-fits-all approach," Nellis vowed.
However, protesters and others during the rally said they're already seeing cutbacks across the university. Organizer Armstrong said that he's heard of staff cutbacks within OU's culinary services, the library system, and in some academic colleges as well with contract non-renewals.
Bernhard Debatin, a professor in the School of Journalism, said during the rally that since 2000, OU has added about 500 administrators compared to 103 faculty, and increased that ratio of administrators to faculty even more since 2010.
"That seems to be a little bit out of proportion," Debatin said.
The OU AAUP paper found a similar trend at the university going as far back as 1979, finding that since that time, "OU has made no major new investments in the direct teaching mission on a per-student basis, even though inflation-adjusted tuition and revenue at the university have raced upward during the same period."
Nellis in his letter defended the importance of OU's athletics program despite a significant level of criticism leveled by faculty and students against the athletics budget, which is heavily subsidized by student tuition and fees.
"Athletics will be challenged to find operational efficiencies, as with all areas of the university," Nellis said.
The protest concluded with a march to Cutler Hall, where Nellis' office is located, with protesters chanting and calling on the president to come out and speak with them, which did not happen. The doors to the building were locked, though OU administrator Eric Burchard did come out to ask the protesters to seek a meeting with Nellis.
THE DEAN OF EACH individual college at the university were tasked with providing budget-reduction targets to the university by Nov. 15, though The NEWS doesn't have information on whether they all followed through.
One email – obtained by The NEWS via a public records request – from OU Scripps College of Communication Dean Scott Titsworth sent on Nov. 4 asks members of the college's budget advisory group to provide ideas on how to reduce the Communication College's budget.
"Under a scenario of possibly having 30% less personnel (approx. 25 faculty and 8 staff lines), what would we want the college to look like?" Titsworth wrote. "For instance, with that number of remaining faculty, does the current school structure maintain viability and usefulness?"
Titsworth clarified in the email that that scenario is not going to be the final budget-reduction goal presented to the university, but he wanted the group to take a hard look at the college's expenses.
Bill Reader, a professor of journalism, is a member of the Scripps College's budget advisory committee and a Faculty Senate member. Speaking in his capacity as a budget advisory committee member and faculty senator in early November, he said "we inherited a mess from the McDavis administration," arguing that administration failed to treat the enrollment growth of the past decade as a "short-term bubble."
"That administration did not invest that short-term windfall wisely — instead, it dramatically increased spending on non-academic matters, and also implemented a budgeting model that was and has been an abject failure," Reader said, referring to the RCM model. "The result is that we could end up making draconian cuts in some of Ohio University's strongest academic programs, leaving fewer people to do more work with greatly reduced resources. Right now, we could be looking at overall budget reduction in the College of Communication adding up to 44% or more by the end of this budget-cutting cycle, which is equivalent to about two dozen faculty and 10 or so support staff. I think everybody involved here, at every level, is trying to come up with ideas to protect and improve the academic programs that attract so many amazing students to our campuses and that give pride to so many of our outstanding alumni.
"But it is understandably difficult to come up with innovative ideas over a matter of weeks," Reader concluded, "when we could end up losing a third of our colleagues to layoffs regardless — and knowing that the architects of this budget crisis have moved on and will never be held accountable for the mess they left behind."