Editor's note: The author of this article is currently a graduate student at Ohio University's Athens Campus and attended OU for her undergraduate degree in journalism.
Welcome Weekend finally arrived, once again filling up the streets and bars surrounding Ohio University with hard-partying Bobcats, celebrating their return to Athens and the beginning of a new term. But after friendships are rekindled and good times are had, the inevitable follows – classes starting Monday and extending far into the late fall.
And after enduring a long semester of all-nighters at Alden Library and sweltering classes at Bentley Hall, students will go home for the holidays to enjoy a home-cooked Thanksgiving dinner just so they can hear Uncle Harry ask, "OU, huh? Isn't that a party school? Did you get any work done at all?"
On Twitter, it's not uncommon for Ohio Bobcats to express exasperation at this longstanding party-school reputation, suggesting they'd rather discuss something else with their relatives during the holidays. 
Last summer, Twitter-user @_phoebemarie_ tweeted a metaphorical exchange between herself and "any adult in earshot" on OU's party-school reputation, earning 6,700 likes.
"me: i'm going to Ohio Uni-
Any adult in earshot: oHiO unIvERsItY?! that's a ParTy SChoOl!! are you gonna get ANY work done?? are you SURE you should go THERE? you're gonna be pARtY cRrrRaAZzzZy! don't be dumb hahhahahaa!!!!"
The following tweet has been copied on Twitter more than a few times, but the most popular version was sent out by Twitter-user @gracefowler256 in November 2018.
"Me- 'I go to Ohio University'
Literally anyone else's brain-
'Oh thats a big party school ya know'"
Back in May 2017, one impassioned Twitter-user, @Josh_Bro15, started a thread on his frustrations with the party-school reputation Ohio University holds. To him, it's so much more than that. 
"People who knock on Ohio University saying it's 'just a party school' clearly did not attend OU. It's so much more than that. A thread…"
The tweets in his thread touched on the beauty of the Athens campus, the friends he has made during his time at OU, and the memorable experiences he has had.
"Ohio University has so much to offer. Because you're not only getting an education, you're getting a family," he wrote. "Articles titled 'top 10 party schools in America' don't matter. Us bobcats know what it's really like here."
MEANWHILE, ANOTHER YEAR HAS GONE by without Ohio University reaching the top or even making The Princeton Review's list of the 20 best party schools in America, which was published earlier this month. The last time the university took the No. 1 spot on the PR's list was in 2011, although Playboy Magazine ranked OU as the top party school in America as recently as 2015.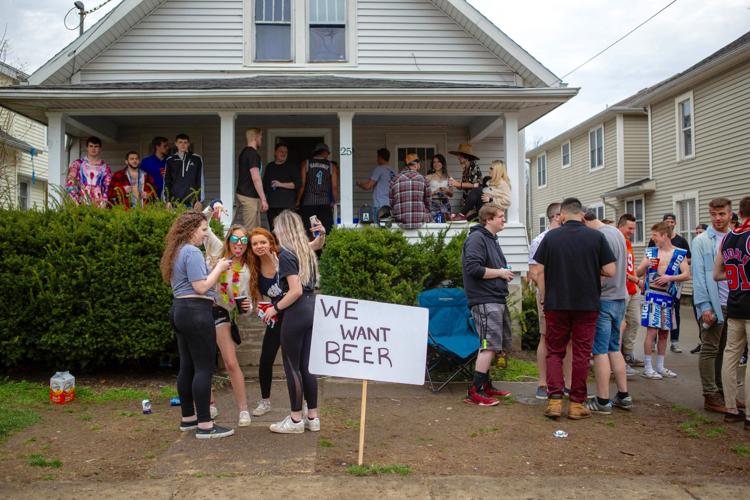 To decide which campuses have the craziest party scenes, The Princeton Review says it surveys a total of 140,000 students from the 385 universities it features in its "The Best 385 Colleges: 2020 Edition." Making the "Party Schools" list indicates that surveyed students reported a combination of low personal daily study hours outside of class, high usage of alcohol and drugs on campus, and a high popularity on campus for Greek Life, according to The Princeton Review's college ranking methodology.  
This ranking system, though, has faced criticism by some experts for the small sample size of students surveyed to compile such a list, as well as its promotion of binge-drinking culture.
Dr. Henry Wechsler, an instructor in the Harvard School of Public Health College Alcohol Studies Program, in a 2003 article published by CBS News contended that The Princeton Review's ranking system at the time was "positively unscientific" and that accurately ranking top party schools is "impossible to do, it's stupid to do, and it's inaccurate." (The Princeton Review's ranking system methodology and sample size remains the same now as then, but it has added 40 colleges and 40,000 students to its survey list.)
In the same article, Dr. Richard Yost, then a director of the American Medical Association's Office of Alcohol and Other Drug Abuse, blasted The Princeton Review for publishing something "that fuels the false notion that alcohol is central to the college experience and that ignores the dangerous consequences of high-risk drinking."
Last year, two OU students died due to drug- and alcohol-related circumstances. Collin Wiant, 18, died of asphyxiation due to nitrous-oxide ingestion on Nov. 12 last year after being found unresponsive at 45 Mill St., a rooming house that's allegedly an unofficial annex of the Epsilon chapter of fraternity Sigma Pi. That fraternity chapter was expelled from the university back in late April 2019, although the chapter denies any wrongdoing, and denies that Wiant was a pledge at the time of his death. Wiant's parents in a lawsuit have disputed that claim, and argued that the fraternity chapter was directly responsible for his death. Meanwhile, OU student Aaron Freund, 23, died on Aug. 25, 2018, just a few days before OU's 2018 fall semester was set to begin. Autopsy records completed a month later concluded that Freund, 23, had overdosed on a combination of alcohol and cocaine laced with the highly powerful synthetic drug fentanyl (which is up to 50 times more powerful than heroin). Both Wiant and Freund's deaths have been listed as accidental.
OHIO UNIVERSITY'S OWN TERRY Koons, associate director of health promotion, agrees that the party-school list is inaccurate, and said the binge-drinking culture at OU is "partly fueled by the party-school list."
Koons noted that "every school is a party school," but what matters is how these universities curb high-risk drinking and help students who have problems with alcohol and drug use. His role at OU is to do just that.
This year, Ohio University was one of three higher-learning institutions to earn the national 2019 Impact Award for outstanding achievements in alcohol prevention efforts. EverFi, a leading educational technology platform, considered more than 100 universities for this award, but said in a press release that OU "stood out."
Koons said the university has seen a 58% reduction in high-risk drinking since 2003 when it began establishing educational programs, social norming campaigns and student leadership opportunities to make students aware of possible consequences involved with heavy alcohol use. The university has seen a decrease in high-risk drinking each year since the office of health promotion began collecting data in 2003, he said.
A big impact on this reduction in high-risk drinking comes from peer-to-peer programming with the CHOICES Learning Community Program, which is mandatory for all incoming first-year students to complete.
"This program ties together information delivered through the required online EverFi alcohol and sexual-assault prevention education courses," Koons said in a press release issued earlier this summer. "Adding active-bystander training education has led to 74 percent of first-year students saying they would prevent a drunk friend from having sexual activity. The data we collect on the related health behaviors and perceptions have allowed us to meet the health-education needs of our students."
EverFi's Vice President Robert Buelow and Senior Director Kimberley Timpf commended Koons in the press release for his "hard work and dedication an unwavering commitment to creating a healthy and safe campus."
"As you are aware, OHIO's success is due in great part to Terry's leadership and tireless efforts to develop, implement and sustain a set of effective education and prevention initiatives," wrote Buelow and Timpf. "We also wish to thank the university for its commitment to alcohol and other drug-prevention efforts. This achievement is also a testament to its investment in creating a campus environment in which students can live, learn and thrive."
Koons said he's noticed that OU students and alumni would rather have a positive memory – the environment where "students can live, learn and thrive" – to be the main topic of conversation later in life when discussing their college years than the negative one – their drinking habits. 
"I think students say they don't want partying to be the number-one ask of our campus," he said. "I think maybe it could be or it has been, but talk to any alumnus of this institution and they would want to talk about other things."
BEBE KUM, A SENIOR IN OU'S CHAPTER of Phi Delta Theta fraternity, said he doesn't personally think of Ohio University as a party school, and didn't even realize it had that reputation until his first Welcome Weekend in 2015. But he does have a theory on where it comes from. 
"I think what gives it the party school moniker is because tons of people who come to visit here, especially from around different parts of Ohio, think of it as a party school," he said. "Given its location, (drinking) is kind of exemplified when there's not a lot of other things going on on campus. But going here, you don't see it as a party school because you have to work hard and the classes aren't easy."
Kum said he often notices that many students drink out of boredom, and suggested the university host more events or bring different entertainment opportunities to Athens to make up for a perceived lack of available activities.
"Drinking at OU is everyone's favorite pastime because there's nothing to do that's close," he said. "There's not enough extracurriculars to keep students active."
Koons agreed that having more activities on and near campus would help reduce high-risk drinking activities, but said there are a few barriers in the way of making that happen.
"The EverFi recommendations have been we need to increase social programming. That's one of those places where we haven't had the resources to invest in more strategic planning of prevention and social programming," Koons said. "Looking at fall semester, you want to focus on first-year students, but everybody wants something to do, and I think we have to have a staff that can provide that."
Kum, who often hosts off-campus parties, said even though he used to go out drinking with his friends two or three times a week, he has cut back to one night a week since his classes became more difficult in his upperclass years. He said he encourages other students who go out to stay safe and practice the "Bobcats look after Bobcats" ethos.
"If you're going to drink, you should be around responsible and trusted friends – have some people who will look out for you," he said. " I can't describe how many situations I was in where if I wasn't with a trustworthy friend, I don't know where I would have been."