Kaitlin Bennett, the controversial "Kent State gun girl," vowed on Twitter this week to return to Ohio University's campus with "an army of gun owners for an open carry walk through campus" after she and her small group appeared to have been hounded off campus Monday afternoon by hundreds of derisive and/or angry protesters.
No injuries, property damage or arrests were reported in the wake of Bennett's appearance at OU.
Videos on social media circulated like wildfire Monday afternoon showing OU students and others surrounding controversial far-right media personality Bennett in her first appearance in Athens, with the crowd hurling insults and the occasional roll of toilet paper at her. Bennett was accompanied by a towering bodyguard, another young conservative commentator, and members of her conservative/libertarian activist website Liberty Hangout.
Apparently, out of pure coincidence, Bennett's visit Monday coincided with OHIO Up Close Day, an open house visitation day for admitted high school seniors.
Although Bennett said on social media that her entourage dropped by OU on Presidents Day to film a video asking students "trivia" questions related to the holiday, other accounts online suggested that she was engaged in her usual strategy when visiting colleges: attempting to trigger – and then video – contentious debates with liberal college students by asking them loaded questions about LGBTQ people, race, guns and abortion.
However, Bennett apparently didn't have an opportunity to spend much time in that pursuit during her visit Monday afternoon. She was barraged by students demanding that she leave town, with many shouting expletives at her, along with chants and the toilet-paper rolls that echo the viral rumor suggesting she defecated herself at a Kent State University party while she was a student. Still, some others pushed through the crowd to give Bennett hugs.
"It seems like the most liberal college in Ohio is also the most intolerant, the most disgusting, and the most horrific when it comes to diversity of opinion, and that's what we're showing here today," Bennett said during the protest Monday.
After Bennett left with her group, she tweeted, "This is what happens when a Trump supporter goes to a college campus. Leftists at @ohiou started a riot when @Joelpatrick1776 and I showed up, and the @oupolice let it happen. I think @realDonaldTrump should strip funding from universities like this that harbor terrorists." (Bennett appeared on Fox News' popular morning show, "Fox & Friends," Wednesday morning, virtually assuring that Monday's events in Athens will come to the attention of President Trump, who reportedly regularly watches the show.)
That tweet and others like it received thousands of retweets on Twitter, along with national attention from conservative and far-right political figures, with many repeating tropes about the "intolerant left" on college campuses shouting down conservative philosophies. (To be fair, videos from protesters and others ridiculing Bennett's visit also generated tens of thousands of interactions and retweets.)  
Many among Bennett's supporters claimed that Bennett had been "assaulted," and angrily denounced OU and its Police Department for not doing anything to curb the protesters' behavior. 
The OUPD, asked about Bennett's tweets, cited a statement it shared early Monday evening on Twitter, noting that the incident did not escalate to the level of a "riot."
"There was strong language, and allegations that that some unknown person(s) in the crowd splashed water, but there were no reported injuries or violence, and no one was arrested during the incident," the OUPD statement read.
The police agency added that Bennett did not give the university notice prior to her visit, which could have allowed the department to "plan staffing levels," though Bennett would not have been required to do so.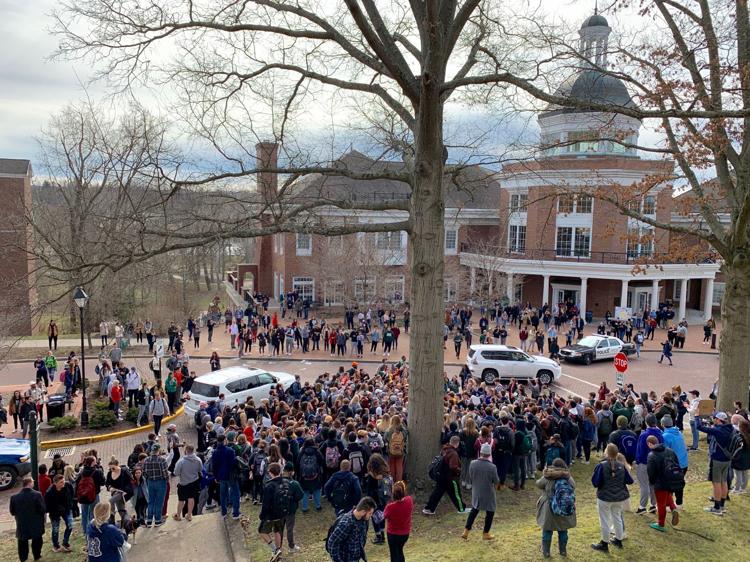 Monday night, Bennett posted another video of the protest on Twitter, charging that the OU Police "lied" in their statement, and claiming that students were "throwing things at a me all day, dumped hot coffee on me, and vandalized" her fellow commentator's truck. The video shows several instances where students threw rolls of toilet paper at Bennett, but does not show the moment when coffee was allegedly poured on her, or vandalism to the truck outside of water and possibly other liquids thrown on it.
IF BENNETT RETURNS TO OU for an open-carry march as she promised on Twitter, Ohio law likely wouldn't prevent her from doing so.
While OU has a ban on concealed-carry of firearms on campus, Ohio as a state largely allows open carry of guns in public areas. OU Police Lt. Tim Ryan said as much in a brief statement Tuesday, noting, "Open carry of firearms is generally lawful in the State of Ohio. Carrying concealed weapons on Ohio University's campuses is generally unlawful."
Armed open-carry activists from out of town did walk down the part of South Court Street that abuts campus during the International Street Fair (and through several OU parking lots) in April 2017, without being stopped or arrested. 
Some conservative commentators on Twitter argued that President Trump should pull federal funding from OU based on an executive order he issued last year that he maintained would protect "free speech" on college campuses. However, that order essentially only reinforces what public universities are already supposed to do, directing federal agencies that fund university research to add language to existing agreements that require the colleges to "uphold the First Amendment," and to uphold their own "stated institutional policies regarding freedom of speech."
Bennett posted a video on her Twitter page Tuesday showing her asking an OU student outside Baker Center Monday afternoon to identify the first three U.S. presidents. She said he was "the only student I got to ask before they started rioting." 
However, a parent of a prospective OU student took to social media on Tuesday disputing that, stating that Bennett asked he and his daughter "why gay people had special rights?" He also reported hearing Bennett ask an African-American student, "Do you ever thank white people for the fact that you aren't a slave?" 
In the last two years, Bennett has gone from being a viral open-carry activist to a nationally known conservative media figure notorious for creating Internet videos where she primarily prods college students about social and political issues. She was not openly carrying a firearm Monday afternoon.
She is also a contributor for Infowars, a highly controversial far-right media network known for promoting misinformation and conspiracy theories about events such as the Sandy Hook Elementary School shooting. Meanwhile, her website, Liberty Hangout, has posted on social media questioning "whether the Holocaust happened as we've been told," and asserting that people "cannot be born gay." 
RETURNING TO THE EVENTS on Monday, the crowd surrounding Bennett traveled with her from outside Baker Center's fourth floor, down the building's escalators, through West Green, and then returned to the ground level of Baker Center where Bennett's friend's bright orange Ford truck, outfitted with an Iron Cross Automotive bumper, was parked nearby. 
She and her cohort loaded into the truck and left campus less than two hours after arriving.
"I kind of feel like she just came here to get this reaction," said sophomore Liam McSteen. "I think it's just kind of attention-seeking behavior. I don't know if she thinks she's going to change anyone's mind out here."
Amid all the chaos of Bennett's visit to OU, another video surfaced of OU senior Taren Holliman, a journalism major, questioning Bennett and her fellow conservative commentator Joel Patrick about their views Monday afternoon. Holliman, who describes herself as biracial, related to The NEWS that she asked Patrick how he can be a "black man (supporting) this racist woman." At one point, she said Bennett asked her why "black people commit the most crimes."
Holliman said that when she tried to talk to Bennett and Patrick about mass incarceration and how racism in the criminal justice system affects those statistics, she said she quickly realized, "they came here with their minds made up."
"They didn't come here to have intelligent conversations, to hear our side," she said. "They came here to disrupt."
Holliman also responded to criticism of the students protesting, with some stating on social media that the loud protest was playing into Bennett's hands and granting her more notoriety and publicity.
"This is a woman who has 200,000-plus followers on Twitter already; she has a platform; there are people who identify with her," Holliman said. "The only difference is that if we were quiet, they would be louder. Yes, she got publicity… but we can use that same logic when we refer to historically oppressive people, and we could say, 'oh, they just want attention.'"
Betty Miller, president of OU's NAACP chapter, said in a brief statement that she was also glad to see the large protest reaction to Bennett's visit.
"I felt that the protest was a great way to show that Ohio University will not support anyone who perpetuates hate," she said.
The New Political staff writer Nolan Cramer contributed to this report.