We are living in crazy times.  If you're at home, watching the news, you are probably like me. Physically, you feel fine but this hazy dread is hanging over you at all times.  There's a real, albeit small, chance you could meet your end due to an invisible agent, lurking in the air in crowded places, lingering on plastics, metals… or not. We kind of know, but not for sure, not yet.
Our goal as a society, as a good neighbor, as someone who doesn't want to be part of the problem, is to minimize the impact on our hospitals by minimizing our contact with others, at least, for the near future. It's all about flattening the curve. We don't want to be Italy, part two.
At a time when you wish you had the comfort of friends and family, we've been asked to "socially isolate."  No groups larger than 100, then 50, then 10. Schools, gyms, libraries, theaters, dine-in at restaurants, bars, are all closed or about to close. Combine the crowd size restrictions with the closure of bars, and it spells the death of the live music scene for the foreseeable future. 
For the musicians who perform and the fans who gather with their friends to watch the performances, this social isolation is especially tough.  For some musicians, live performances are their livelihood, and for some fans, music is their lifeline. 
Luckily for us, local recording studio owner Neil Tuuri, who plays bass guitar for the band Gudger, saw a way for us to simulate that connection, digitally.  After the Southgate House in Newport, Kentucky, canceled the band's show with Smoke Healer due to the coronavirus, he and lead singer/drummer for Gudger, Aaron Eddleblute, came up with the same idea at almost the same time. 
That idea was to bring their fans together in the digital realm by live streaming on Facebook the performance they planned to give in Kentucky. Pandemic aside, social media has long been accused of making people feel more disjointed than connected. It's nice to know that, at least at a local level, we can still use social media for its advertised purpose, to connect people.  
 "It was seriously like me and Neil were on the same brain waves on this whole thing," said Eddleblute. "I thought Thursday morning on my way to work that it would be a cool idea. And before I had the chance to propose it to the dudes, Neil sent us a group message with the same idea. After that, we were trying to pull all of our resources together the best we could and get a rough concept together in time for Saturday (March 14)."
At home, I wired my laptop via an HDMI cable to my television, and listened to the "Jeopardy" theme for several minutes while the band got ready. Most others simply watched on their phones. Soon, we were greeted by Eddleblute, dressed in a full hazmat suit complete with a gas mask. The band, also in paper hazmat suits, started to play as the camera panned around the studio. A case of Corona lay on the floor.  Empty Corona bottles sat on top of their full amplifier stacks like decorations.
The sound was excellent. The performance (which you can see here, or by going to Gudger's Facebook page) was solid. The only odd thing was the lack of a crowd response between songs. Other people watching the stream posted the emoji of hands clapping. Some were more direct: "I'm clapping now!"
Tuuri and the band had some goals for the live stream. They wanted it to sound exceptional, they wanted to play the Saturday of their canceled show, and they wanted to get more than 100 people to view the stream. At the time of their idea, gatherings of 100 were still allowed. 
For the first goal, sounding good, Neil decided to stream the show from his studio on the eastern outskirts of Athens. He needed to somehow get his studio sound into an Iphone 2 running the Facebook livestream. To accomplish this, he reached out to fellow sound professional David Eubanks for a special adapter. Even still, Neil had to hand-solder some cables together to complete the bridge from recording console to phone.
"I ended up cutting up some old cables and soldered a new one together to make it function." Tuuri explained. "There are ways around this that would have yielded higher-quality audio but would have made necessary an Amazon order that wasn't going to show up on time. We really wanted to get ahead of the curve and put one of these together in the very near future rather than put it out for a week or two. The idea is to use our own band as a guinea pig to see if this thing was even possible."
Work began on Friday, March 13. It took seven hours of experimentation to get the sound levels perfect. Several invite-only beta-test live streams went out first before the curtains rose on their digital stage at 7 Saturday night. Minutes into their live stream event, they surpassed their goal of 100 viewers.  As more and more fans learned how to overcame technical difficulties on their end, the number of viewers swelled to over 200. Virtual attendees chatted during the performance.  It was almost like you were meeting your friends at a live show. Almost.  
I AM A FAN OF LIVE LOCAL music. I've been known to see a show or two and take photos of the performances. Music is an important part of my life.  I'm also a musician myself, and my bandmates are part of my extended family. But I'm not alone in my love for music, and I am not the only one feeling anxious about the shutdown of live performance.  
The goal of social isolation is to throttle the rate of infection. While it would be nice if social isolation alone could break the back of this coronavirus, our at-risk citizens are not going to be safe until a vaccine is readily available to the public. Clinical trials for a potential vaccine began Monday, March 16. Even if the vaccine proves effective, it won't be publicly available for many months. What does that mean for live local performance? Without a vaccine, will crowds ever be safe? Will performers be safe? Performers and fans alike will have to grapple with this question for a long time to come.
"Am I afraid to go out in public? No, I personally am healthy and younger than I look and act." stated Lou Poster, lead singer and guitarist for the Ohio garage Americana band, Drift Mouth. "I am afraid I may cause someone else who is not so lucky as I to become seriously ill, though."
Poster acknowledged the financial hit from the hiatus on live performances. "I and many others will suffer from this financially," he said. "Many of us are just now gaining momentum and have some great music to be released this year. But we are not the center of the f***ing universe. It hurts, it seems unfair, but this is so much bigger than a few individual artists or a couple shows. It's about not breaking the creaky and underprepared health-care system in our country. It's about not endangering our peers, families and friends. It sucks; austerity always does, but you've got to recognize when there's a bigger picture."
Eddleblute sees things similarly to Poster. "I'd be lying if I said I wouldn't be worried about it. I love playing live but people's safety and wellbeing takes top priority over anything, and we'll wait as long as it takes until the coast is clear… ish. Music will always be there."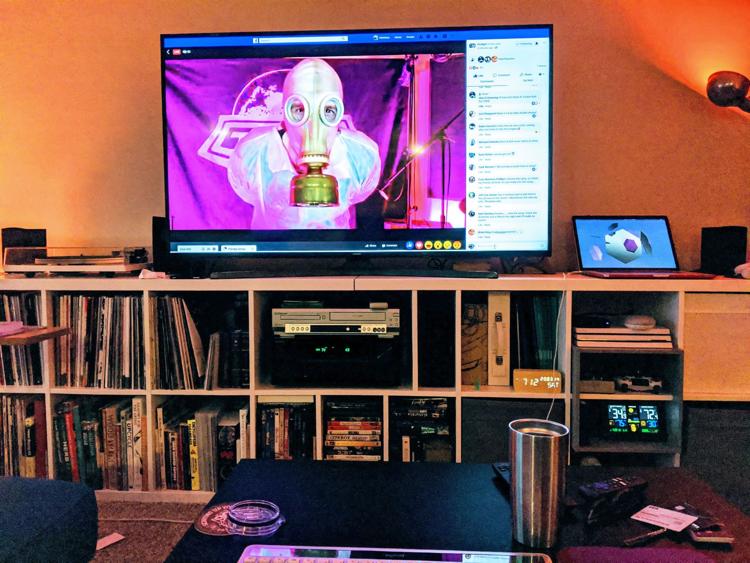 Shelly Adams is what's known as a super fan.  I've seen her in the crowd at shows from Athens to Columbus, and she nearly always posts photos of the concerts she attends on Facebook. "In 2013, I was about to turn 45, and I said to myself that I was going to start living my life, instead of just existing," Adams said. "That year I saw 167 bands perform live. Many duplicates, but that experience made me want more and more."
Over the years, Adams has seen possibly thousands of live music performances. I asked her when she would feel safe enough to start going back to live shows. "Honestly? I 'died' in 2017 from an allergy to a medication used during surgery. Every single day is a gift, and I refuse to live my life being afraid I might die. Once we reach the point where the reports of new cases have peaked and we start reaching a plateau, I'll be the first one through the door."
The goal of social isolation is to spare our elderly and immunocompromised from a slow, painful, suffocating death. Is there any point prior to the release of a vaccine that a live performance is justifiable? Many of us are currently full of resolve to do the right thing. Only time will tell if cabin fever and loneliness will overtake our fear of the virus.
"...This is the absolute best decision that they can make right now," Poster said. "No one knows for certain the scope of what we are dealing with, but there are zero scientists saying 'all clear' right now. Also, no one is saying that this period of social distancing and self-quarantine will stop the spread of the virus, only make the fallout slower and therefore more manageable from a health-care perspective."
IN THE MEANTIME, WE have Neil Tuuri's studio broadcasts to tide us over. With the success of the first livestream behind him, he plans to broadcast multi-band bills like you would see at a live show, and give local artists a means to earn during the hiatus. He's even working with local station WXTQ Power 105 to broadcast the much-loved Tony's Jazz Night that lost its home when Tony's was closed along with all other bars.
Tuuri is also trying to help out musicians financially with his broadcast.
"I have a former student named Randy Gleason," noted Tuuri.  "He is a fulltime musician and is now making zero income. Gleason makes his money 100 percent from playing live music. He has no studio recordings released and is scrambling a bit.  I'm offering to do a live stream with him pro bono with a virtual tip jar."
You can see Randy Gleason's live performance at 8 p.m. Wednesday, March 25, by visiting Gleason's Facebook page.  And please tip the performance if you attend virtually.
In the days since the Gudger live stream, some major name bands have come up with the same idea. The Dropkick Murphys were planning to stream a St. Patrick's Day concert Tuesday evening. Artists includign Diplo, Yungblud and Pittsburgh-based metal band, Code Orange, are also streaming concerts online.  Code Orange had 17,000 people watch their first live stream. Many more artists are likely to go online in the year to come.  This might be the dawn of a new era of watching concerts online. 
During Gudger's livestream performance, several older viewers joked via the online chat feature that streaming might be the best way for them to attend concerts going forward.  We'll see.  You can't beat a live performance.
Shelly Adams wonders about that difference between live and streaming. "I'm not sure how I will be able to get the same level of enjoyment without the ability to see bands play live," she said. "I really enjoy the experience of being in a room full of people who are there to support the folks who make music, same as me. It's like we are all family for a little while."
But she understands these are extraordinary times. "I think the measures taken, though extreme, are what is needed to protect us all, so we can live to celebrate the end of the pandemic with a big night of live music," she said.
Twenty-four hours after it originally aired, 7,000 viewers had tuned in to see the Gudger live stream.  Imagine if the viewers paid a mere 10 cents to watch the show. Imagine if they paid a dollar. Perhaps local music can survive this mess after all.
Editor's note: Matthew Toledo is a web developer, guitarist for the band Hells Fire Sinners, and a former music writer for The Athens NEWS.