In what a news release describes as "high-octane dramatic comedy laden with homicidal fairies, nasty ogres, and '90s pop culture," the Ohio University School of Theater is presenting the third production of the 2019–20 season, "She Kills Monsters" this week and next.
Written by OU master's alum Qui Nguyen and directed by Brian Evans, the play will be presented this Thursday through Saturday (Feb. 20-22) and next Tuesday through Saturday (Feb. 25-29) all at 8 p.m. in the RTV Building's Forum Theater.
In the play, acclaimed playwright Nguyen, MFA '02, "offers a heart-pounding homage to the geek and warrior within us all," the release said.
"Working on this show has been an extremely rewarding process," Evans said in the release. "The students have been so enthusiastic and dedicated, working tirelessly for many months. Students on the season selection committee really wanted us to produce 'She Kills Monsters' for many reasons, and Nguyen being one of our most celebrated alumni only furthered that want."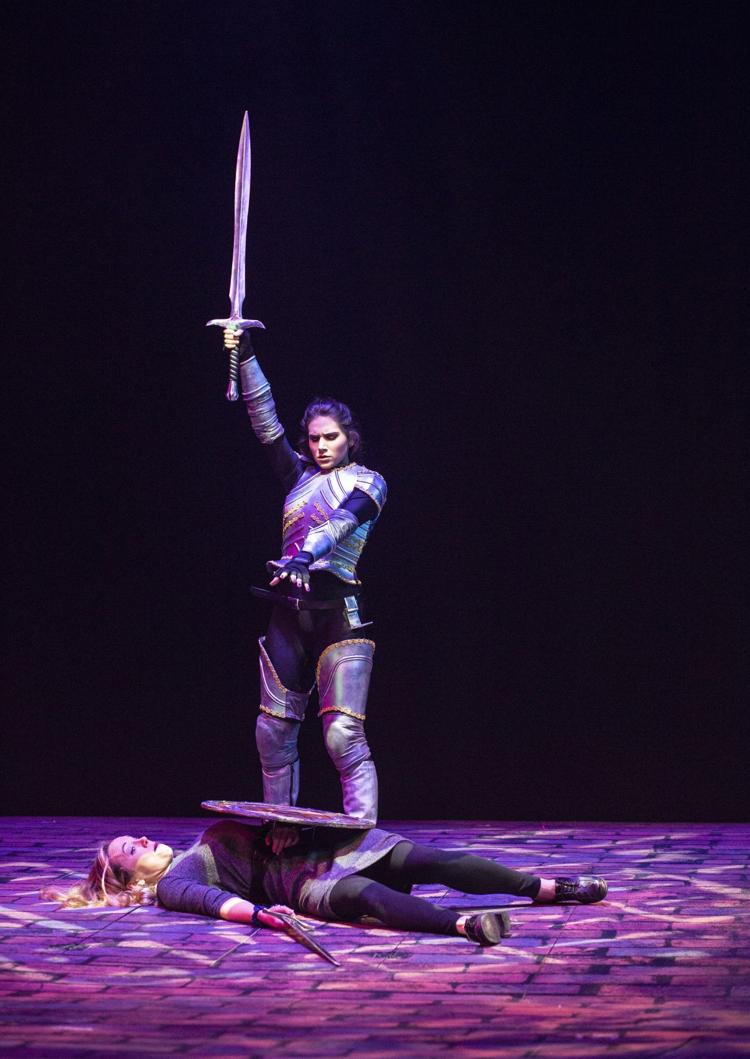 Evans, associate professor in the School of Theater, directs an all-student cast including Masters of Fine Arts student actor Courtney Abbott and Bachelors of Fine Arts student actors Erik Armstrong, Morgan Austin, Jack Benken, Caleb Crawford, Heather Harris, Katie Kirk, Hannah McCauley, Makaila McColley, KeShawn Mellon, Lindsay Wielonski and Kari Willenbrink.
Aside from the production being written by an alumnus, the release said, "She Kills Monsters" is also special in the challenges it has presented to its costume designers. Since the play is interwoven between reality and a fantasy Dungeons and Dragons module, designers had to create several different, intricate monsters that the protagonist encounters.
"There are a lot of monsters and they all die, but Evans wanted each monster to have a spectacular way to die, so we had to create costumes that were able to have the tail getting chopped off, and heads cracking open and guts spilling out," Kathleen Gardin, the costume designer who is working on this production for her thesis, said in the release. "All of these creatures and the gimmicks they have are necessary for a spectacular story and to show the strong contrast between worlds."
Talkbacks will follow the performances on Feb. 22 and 26, and an American Sign Language performance will take place on Feb. 27.
"Overall, I hope the play conveys the importance of acceptance, especially as it relates to difference," Evans added in the release. "I think we're in a time of extreme divisiveness, and this play confronts the expectation that we should all have similar interests and identities."
Through Arts for OHIO, tickets are free for OU students with a student ID. Regular tickets are $10 for adults and $7 for non-OU college students, seniors, alumni, veterans and first responders. For more information and reservations, call 740-593-1780, or stop by the Fine Arts Ticket Office on campus located at the East Union Street entrance of The Templeton-Blackburn Alumni Memorial Auditorium, Monday through Friday, 12-5 p.m.